Everything for the serious home &
artisan cheesemaker.
From Wisconsin - America's Dairyland
"Blessed are the cheesemakers" ~ Monty Python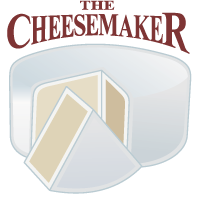 414-745-5483
10am - 6pm CST Mon-Fri
All orders shipped same day.


Shipping Included Within The Continental United States.
Kombucha
"I used to be a gourmet soda junkie. Thanks to Sacha Laurin and the gals at NessAlla Kombucha Company in Madison, Wisconsin, who turned me on to great tasting Kombucha, I'm a changed man."-Steve Shapson
Kombucha SCOBY*, Kits* and Bulk Rishi Teas. Local company Rishi Teas is famous worldwide for their wonderful assortment of teas. We've chosen their finest black, green and herbal teas for you to make your own homemade Kombucha. Packed in 2 oz.(57grams) sealed bags, this amount will make many many batches of Kombucha or drinking tea. Shipping included within the continental USA.
*available mid November
SCOBY: Symbiotic Colony Of Bacteria and Yeast
Shipping included within the continental USA. Shipped same day as ordered, Mon-Sat.