Everything for the serious home &
artisan cheesemaker.
From Wisconsin - America's Dairyland
"Blessed are the cheesemakers" ~ Monty Python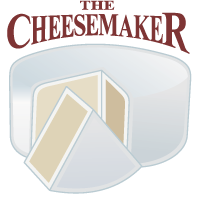 414-745-5483
10am - 6pm CST Mon-Fri
All orders shipped same day.


Shipping Included Within The Continental United States.
CHY-MAX® M Liquid Rennet
Rating:
(

1

product review )
---
Product Description
Naturally produced through fermentation, double strength, Kosher, Halal, vegetarian. CHY-MAX® M is Kosher, Halal & Vegetarian certified. More coagulation efficiency cheese yield. Mild and rounded flavors. CHY-MAX® M is natural and is not GM/ not a GMO product. This product is highly concentrated. Follow the usage rate. If you're now using ChyMax Extra Chymosin, start by using 50% less of the ChyMax M rennet.
Hobbyist usage rate: .015 tsp/.076ml or (2-3.5 drops) per gallon(3.78 liters) of milk. Industry: refer to Information Sheets below.
Available in 1 oz.(29.5ml), 4 oz.(118ml, 1 pint (.47 liter), 1.056 quart(1 liter**). This rennet is Kosher approved and acceptable for vegetarian cheeses.
**Note: the liter size is sealed/labeled/certified Circle K Kosher.

Kosher Certified

Information Sheets

Shipping included within the USA.
---
Find Similar Products by Category
---
Product Reviews
Customers Who Viewed This Product Also Viewed