Everything for the serious home &
artisan cheesemaker.
From Wisconsin - America's Dairyland
"Blessed are the cheesemakers" ~ Monty Python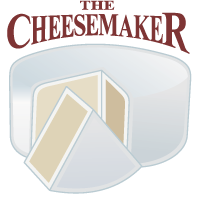 414-745-5483
10am - 6pm CST Mon-Fri
All orders shipped same day.


Shipping Included Within The Continental United States.
Cream Wax - 1 lb (.45kg)
Rating:
(

1

product review )
---
Product Description
Food grade cheese coatings from CSK (Holland). Colors: cream colored/very light orange, natural or red. Non-petroleum cream wax with mold inhibitors (Natamycin). Easy clean up using warm/hot. Use a natural bristle brush to apply. Excellent for brushing on hard cheeses with or without adding the melted hard wax afterwards. Allow proper drying between coatings.
NOTE: The above photos do not reflect the dried result. Yellow will dry yellow, red will dry medium red, orange(not shown) will dry medium orange and the white color dries clear.

Shipping included within the continental USA.


---
Find Similar Products by Category
---
Product Reviews
Helps retain moisture & prevent mold

Posted by Nancy-Rebecca McCarty on 12th May 2013

I was having trouble keeping my hard cheeses from drying out and getting unwanted mold. This product is easy to use, must brush on, a few coats (let each coat dry between applications) to get a good rind. This product forms a flexible rind, which is edible (& pretty tasteless), it effectively excludes air, keeps moisture in, and somewhat inhibits mold growth if applied correctly. The rind is flexible, unlike wax, it doesn't crack in ageing. Helps improve quality of end product a lot if you age cheeses under less than ideal conditions (like in a home frig).

---
---
Customers Who Viewed This Product Also Viewed