"Blessed are the cheesemakers"
~ Monty Python
From Wisconsin - America's Dairyland
Everything for the serious home & artisan cheesemaker.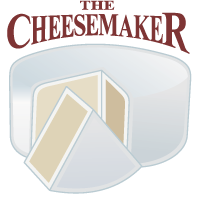 414-745-5483
10am - 6pm CST Mon-Fri
All orders shipped same day.


Shipping Included Within The Continental United States.
Deluxe Soft/Hard Cheese Making Kit
Product Description
This Kit is an excellent gift for the serious cheese maker. Unlike other Basic Kits, this Kit includes an excellent Recipe/Learning book which will help teach the art of artisan cheese making. The Deluxe Soft/Hard Cheese Making Kit contains just the right items and an excellent learning/recipe book so you can easily make so many different soft as well as hard cheeses. Cheddar, colby, gouda, parmesan are just some of the many hard cheeses that can be made using these products. And many soft cheeses can also be made. It also includes your choice of a small, large or extra large Tomme mould to press your hard cheeses. Everything needed to make many many batches of soft and/or hard cheeses.

The kit contains:
Mesophilic Starter Culture MM100-101 125 dose
or Chr Hansen CHN-22 $16.97
Thermophilic Starter Culture TA 61-62 50 dose $18.97
Mesophilic Starter Culture Kazu, Chr Hansen CHN-11/19 or MA 11 50 dose $15.97
Calcium Chloride 1 oz. $7.97
1 oz. liquid rennet (your choice/make note at checkout) $8.97
1 oz. Commercial Grade liquid smoke $5.97
1 oz. Natural cheese coloring (orange/yellow) $6.97
2 square yards Reusable Cheesecloth Grade 60 (to line your mould) $8.97
Salometer/Salinometer-Measuring Salt Brine $32.97
Nylon/Plastic Straining Skimmer $6.97
Small Measuring Spoons $6.97
Six Bamboo Draining Mats $6.97
Large Pocket Dial Thermometer $12.97
Tomme Mould (choose one of these moulds: small, large, extra-large) $21.97/$27.97/$37.97).
FYI: Using the larger moulds does not mean you have to use more milk/curds, you can make cheeses with less height using the Extra-Large Tomme Mould.
Moulds are discounted in this Kit at $15, $25 & $35.

200 Easy Cheese Making Recipes

$27.97(sold in this kit for $25)-great beginner book, easy to follow recipes and theory or

Mastering Artisan Cheesemaking $37.97

(sold in this kit for $35)

-great beginner/intermediate book, easy to follow recipes, contains more details on process and inoculants.

Total value of $157.61(less Tomme Mould & Book(s). Purchase here for $133.97.

IMPORTANT NOTE: You can choose the Tomme Mould you want to have included with this Kit. You can choose NO BOOK, one or both books. Both books are excellent, with the Mastering Artisan Cheesemaking being much more comprehensive, yet still understandable for even the beginner. And this book is an excellent resource for the accomplished artisan cheesemaker.
Shipping included within the Continental (48 states) USA. International shipping is USA Postal Service Priority Post.
---
Find Similar Products by Category
---
Customers Who Viewed This Product Also Viewed