Everything for the serious home &
artisan cheesemaker.
From Wisconsin - America's Dairyland
"Blessed are the cheesemakers" ~ Monty Python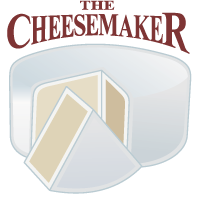 414-745-5483
10am - 6pm CST Mon-Fri
All orders shipped same day.


Shipping Included Within The Continental United States.
Flora Danica-Mesophilic Starter
Flora Danica-Mesophilic Starter
---
Product Description
(50 dose packet).
(freeze-dried direct set/DVI-Direct Vat Innoculation)
Includes:
(LL) Lactococcus lactis subsp. lactis
(LLC) Lactococcus lactis subsp. cremoris
(LLD) Lactococcus lactis subsp. lactis biovar diacetylactis
(LMC) Leuconostoc mesenteroides subsp. cremoris

For making goats milk cheese, Havarti, Baby Swiss, Gouda, Edam, Blue, Goats Milk Cheese, buttermilk/sour cream, cream cheese, cottage cheese, Crème Fraiche, cultured butter and other fresh cheeses. Use 1/8 tsp. per 1 gallon(3.7liters), 1/4 tsp. per 2-5 gallons(7.5-18.9 liters) 1/2 tsp. per 5-10 gallons(18.9-38 liters). Allow 18-20 min. at 70f (21c) to acidify to a pH of 4.60-4.70. Can be used to make Camembert/Brie but you must use another Mesophilic starter culture also. CHN-11 will produce slightly less gas then the CHN-22 and Flora Danica, but CHN-11 is a faster acidifier. Flora Danica will yield the fullest flavor. Flora Danica and CHN-22 can be used interchangeably as the CHN-11 can be with little or no noticeable difference. However, when switching from Flora Danica and CHN-22 to CHN-11 you will need to take these properties into account.

The 50 dose packet will acidify approximately 100 gal. (378 liters of milk).

Kosher Certified

Flora Danica Specs
Shipping included within the 50 United States. International shipping available.
---
Find Similar Products by Category
---
Product Reviews
Very nice!

Posted by Halloweens@cableone.net on 22nd Dec 2015

A great Flora Danica. You won't regret purchasing this for your cheese!

---

Flora Danica is The Best

Posted by Lyn on 21st Sep 2014

I adore Flora Danica culture! It makes absolutely the very best chevre. I have had people from France tell me that mine is better than any they ever had at home; now that's a compliment! It is so light and delicate, I am happy to spend the extra money for this culture.

---

Best Quark ever!

Posted by Gaby Shackelford on 4th Apr 2014

I couldn't wait to try the Flora Danica-Mesophilic Starter and it sure lived up to its reputation. I am using it for making Quark out of Goat milk and it is the best tasting Quark I have ever made. It makes it so mild and creamy. I don't think I will ever use anything different.

---

OOOO... YES!

Posted by Stablefood on 26th Jul 2012

I skim most of my milk for butter and am left to drink the skim, thats ok ;-) ,BUT if you add the flora danica to the skim and let it mature, its soooo creamy and buttery you hardly know its skim. The cheeses I use it in turn out fantistic as well, it lends a buttery slighty nutty(?) Flavor. I have sampled both with and without FD and there is quite a difference. I won't make a cheese without it any more. I hope this review doesn't keep the cheesemaker out of stock!

---
---
Customers Who Viewed This Product Also Viewed