Everything for the serious home &
artisan cheesemaker.
From Wisconsin - America's Dairyland
"Blessed are the cheesemakers" ~ Monty Python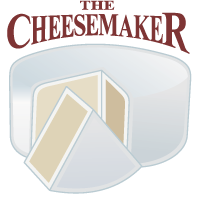 414-745-5483
10am - 6pm CST Mon-Fri
All orders shipped same day.


Shipping Included Within The Continental United States.
Kombucha (SCOBY)Mother Culture & pH Strips/Recipe
Product Description
"I used to be a gourmet soda junkie. Thanks to Sacha Laurin and the gals at NessAlla Kombucha Company in Madison, Wisconsin, who turned me on to great tasting Kombucha,
I'm a changed man."-Steve Shapson
Kombucha is fast becoming a very popular beverage that not only tastes great, but can be beneficial to your health. Kombucha contains lot of Vitamin B and healthy bacteria and yeasts. I've had the commercial Kombucha of which there are many. Most just didn't wet my whistle. They had an odd aftertaste and were too acidic for my taste(you can adjust the acidity and flavor to your liking). After consuming some friend's(thanks Sacha) wonderful Kombucha and having some made by NessAlla in nearby Madison, Wisconsin, I was hooked. Kombucha is very easy to make. You can carbonate it naturally or artificially(I run two on tap at home). Add non-sweetened fruit juice after to give it the flavor you want. Or use herbal teas from Rishi to add great flavor. Kombucha is gluten & dairy free.-Steve Shapson (former gourmet soda consumer, now Kombucha lover).
Each Kombucha Mother (SCOBY) is culivated in it's own glass container and then vacuum packed along with enough Kombucha to help your first batch succeed. The SCOBY is shipped priority post to insure its fast delivery to you. Instructions & online support included. Includes 10 pH strips to test your Kombucha for the correct pH (acid level).

Order our Kombucha Mother(SCOBY) with or without a combination of Black/Green teas and Herbal teas. Each selection of 2 oz.(57grams) tea is only $6.00**(a $8.97 value)when you purchase the Kombucha Mother. **Priced lower than stores or online.
You'll want to add one or more of these incredibly delicious Rishi Teas, great for making Kombucha or steeping for tea. Use either Black or Green tea or a combination of both. Flavor your Kombucha using one or more Rishi Herbal Teas. Rishi Teas are quite concentrated so a little goes a long way. Instructions included to help you care and maintain your SCOBY and batches of Kombucha.
Choose either Black and Green Teas as the base tea for your Kombucha.
Ceylon Single Estate Black Tea-2 oz.(57g)
Jade Cloud Green Tea Organic and Fair Trade™-2 oz.(57g)
Choose a Herbal Teas to give your Kombucha a great flavor.
Tangerine Ginger Caffeine-Free Herbal Blend-Organic and Fair Trade™-2 oz.(57g)
Hibiscus Berry Caffeine-Free Herbal Blend Organic and Fair Trade™-2 oz.(57g)
Plum Berry White Tea-Organic Blend-2 oz.(57g)
Mandarin Citrus White Tea Organic Blend-2 oz.(57g)
Peach Blossom White Tea Organic Blend-2 oz.(57g)
Rishi Turmeric Ginger Caffeine-Free Herbal Blend Organic Tea-2 oz.(57g)



Using our Organic California Culinary Lavender Buds in Kombucha: Adding a small amount of our Culinary Lavender in your tea mix leaves a nice light finish in your Kombucha. Add just 3 grams(about 1/9th of a tsp) per gallon of water. This amount will result in a very pleasant flavor note, bringing your Kombucha to a whole new level. It's best to add Lavender when using Green Tea and/or White Tea.
Make Kombucha today-Recipe.


Bumper Stickers and Business Card Magnets available.
Shipping included within the continental USA.
Shipping available to: Hawaii-Alaska/Canada/Europe/Australia-New Zealand-Japan


---
Find Similar Products by Category
---
Customers Who Viewed This Product Also Viewed