Everything for the serious home &
artisan cheesemaker.
From Wisconsin - America's Dairyland
"Blessed are the cheesemakers" ~ Monty Python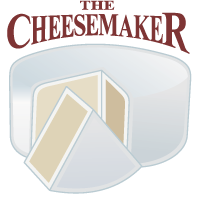 414-745-5483
10am - 6pm CST Mon-Fri
All orders shipped same day.


Shipping Included Within The Continental United States.
Recipes for Making Cheese
I have made the following recipes many times, making improvements in the process. You may come up with a slightly different method or ingredients and get a great result. Cheese making is 90% craft and about 10% science. Don't be afraid of making small changes when you think it will improve your resulting cheese. - Steve Shapson
CHEESE MAKING RECIPES AND RECOMMENDED PRODUCTS TO MAKE THEM
Note: Some recipes have a choice of lactic starter and rennet.
See Mozzarella making the old fashioned Italian way at Caputo Brothers Creamery
Citric Acid Mozzarella(Lipase optional)> Citric Acid Rennet Lipase
Cottage Cheese> Flora Danica or Mesophile Aroma B, Rennet
Hybrid Culture/Citric Acid Mozzarella> Citric Acid Thermophile Aroma B, Flora Danica, Rennet
Fresh Soft Creamy Mozzarella> Thermophile Aroma B, Flora Danica, Rennet
Feta in Brine> Feta-Mesophilic MT1, Mild Lipase, Rennet
Cream Cheese> Flora Danica or Mesophile Aroma B, Rennet

Chèvre and Fromage Blanc> Flora Danica or Mesophile Aroma B, Rennet
Quark> Flora Danica or Mesophile Aroma B, Rennet
Crème Fraiche> Flora Danica or Mesophile Aroma B
Cheddar Cheese and Curds> Mesophilic Starter, Rennet
Washed Curd Stablized Paste Bloomy Rind> Penicillum Candidum, Geotrichum Candidum, Rennet
Washed Rind Cheese ala Spruce Bark Straps> Culture B Linens
Buttermilk and Butter> Flora Danica/Mesophile Aroma B
ADDITIONAL INFORMATION
Lactic foods made with Flora Danica or Mesophile Aroma Type B Culture
Brine Calculator Cheese Salt with Salinometer(brine measuring tool)