Everything for the serious home &
artisan cheesemaker.
From Wisconsin - America's Dairyland
"Blessed are the cheesemakers" ~ Monty Python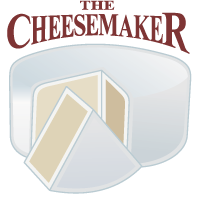 414-745-5483
10am - 6pm CST Mon-Fri
All orders shipped same day.


Shipping Included Within The Continental United States.
Product Description
The Standard Large Brie Kit includes cultures and molds/rennet to make two Camembert/Baby-Brie cheeses and two Large Brie cheeses, plus my digital eBook Guide. Full color with detailed photos/40 pages.

The eBook guide is available in Adobe Acrobat .PDF file format.
The Standard Brie CheeseMaker Kit Includes:
(1) Plastic aging container - 16 3/8in.(41cm)length x 11 1/2in.(29.2cm)width x 5 7/8in.(14.9cm)height.
Easily fits on the shelf of most refrigerators.
(1) Full Color Printed eBook Guide. (optional)

(1) Taylor Instant Read 2" Dial Thermometer. (0-220f)

(1) Plastic draining mat.
(1) Food grade draining bag.
(2) Bamboo draining mats.

(1) Plastic draining Platform.

(1) Calcium Chloride. Helps milk coagulate (form a curd).

(1) Plastic Professional Brie 7in.(180mm) width, 4.3in.(110mm) height and 1 Pro. Camembert mould 4.3in.(110mm) width, 4.3in.(110mm) height.
(2) Two Camembert gift boxes.

Includes: four packets of culture/mold/rennet. Camembert cheese: one packet will make two Camembert cheeses using one gallon of milk. Brie cheese: one packet will make one Brie cheese using one gallon of milk.
(1) Camembert/Brie/Blue Cheese Making eBook and/or Hard Copy Guide.

Double layer microperforated white mold type papers for wrapping and aging. (4 sheets/two 250mm and two 410mm)

When you purchase my eBook guide, you'll get automatic updates and any new information about making these cheeses.
Shipping included within the Continental USA. Alaska, Hawaii & Puerto Rico add $5.00 at checkout. International shipping available.
---
Find Similar Products by Category
---
Customers Who Viewed This Product Also Viewed