"Blessed are the cheesemakers"
~ Monty Python
From Wisconsin - America's Dairyland
Everything for the serious home & artisan cheesemaker.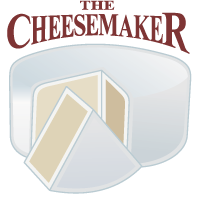 414-745-5483
10am - 6pm CST Mon-Fri
All orders shipped same day.


Shipping Included Within The Continental United States.
Cheese Press Follower Retrofit
Product Description
Cheese Press Follower Retrofit. If you've experienced the follower tilting to one side while pressing curds, you may find this useful.

This Retrofit Kit will allow you to secure the small or large follower to the center screw shaft, therefore eliminating any tilting of the follower during pressing. Without this retrofit, the follower may tilt to one side, especially if the curds placed in the hoop(mould) are not evenly distributed or too much pressure is applied. Using the drill bit to enlarge the small hole in the center of the follower. To install this retrofit you will need to unscrew the nut at the end of the center screw shaft, place the follower onto the center screw, followed by the large washer and nut. Adjust the nut even with the washer as seen in the photos here and tighten both nuts.
Note: if you do not possess a hand drill, you can still enlarge the hole in the follower. Simply hold the drill bit with a plyers and with your other hand place the follower onto the bit, grasping it firmly while turning the follower on the bit end. The follower material is soft enough and you can then enlarge the hole.
Included in this Retrofit Kit:
Drill bit: 7/16 in.(10.4mm) drill bit.
Stainless steel washer: 1.5 inch OD, 13/32 inch ID.
Shipping included within the 48 States and Canada. Other countries add $5.00 at checkout.
---
Find Similar Products by Category
---
Customers Who Viewed This Product Also Viewed