Everything for the serious home &
artisan cheesemaker.
From Wisconsin - America's Dairyland
"Blessed are the cheesemakers" ~ Monty Python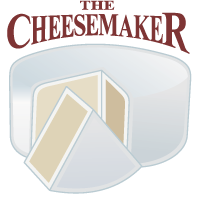 414-745-5483
10am - 6pm CST Mon-Fri
All orders shipped same day.


Shipping Included Within The Continental United States.
Custom Draining Tray/Optional Insert
Custom Draining Tray/Optional Insert
---
Product Description
NEW PRODUCT
Custom Draining Tray: Can be used for draining moulds with bottoms.
Food Grade Insert: Must be used for draining hoops that are bottomless.

I have developed a Custom Made Draining Tray for home and small artisan cheese makers. It is pitched and constructed so whey can expel neatly off one side. This tray fits onto the base of our Dutch Style Cheese Presses. Or it can be used with your press and with many cheese moulds or hoops. Made of heavy duty food grade FDA approved plastic, this tray will really make it easy to drain whey without the usual mess and cleanup. It has many useful applications for home and artisan cheese makers.
Tray washing instructions: hand wash in warm water. Do not wash in dishwasher.
Insert Washing instructions: recommended hand wash, though ok to wash in dishwasher.
Size: inside width: 8 5/8 in.(21.9cm.), inside length: 9 1/2 in.(24.1cm.), Inside length to runoff: 12 1/2 in.(31.1cm.).
Outside width: 9 7/8 in.(25cm), outside length: 13 1/8 in.(33.3cm).

Food grade polypro insert: If you're using moulds or hoops that are bottomless, choose the insert.

This custom insert has thin grooves embedded to help drain off whey, yet will not indent into your cheese.
Special Introductory Offer $21.97. Purchase 10 Trays at a discount.
Shipping included within the USA. International shipping available.


---
Find Similar Products by Category
---
Product Reviews
An absolute MUST for the Home Cheesemaker!

Posted by LaVelle Prince on 25th Sep 2015

This Custom Draining Tray & Insert took all of the mess & fuss out of pressing the curds over the several changeovers needed. Love it!

---

Draining Tray

Posted by Eura Washburn on 9th Jun 2015

Unfortunately, I should have asked what the dimensions were for the tray. I thought it would fit a hand-made maple press I bought from New England Cheese a few years ago. It is too large for my press, but, I am hoping I can put it to some other use.

Response: we custom made these trays and tray inserts to fit our Dutch Style Cheese Press, yet they can be used to drain most hoops and moulds without the press. FYI; the size of the tray and insert is noted at the product listing, especially important if one is using them for their own press or other use. -Steve Shapson



---

Draining Tray

Posted by Jim on 16th Apr 2015

This draining tray is both easy to use and easy to keep clean. It's large enough to be good for all of the cheese molds that I use with plenty of room to spare (I make 2# cheeses). Definitely worth the money!

---

Custom Draining Tray

Posted by Sue Wilde on 14th Jan 2015

The custom draining tray is easier to sterilise than the kitchen sink, which is what I was previously using. There is less mess to clean up and it ensures you can capture your whey to use elsewhere should you wish to do so.

---
---
Customers Who Viewed This Product Also Viewed