"Blessed are the cheesemakers"
~ Monty Python
From Wisconsin - America's Dairyland
Everything for the serious home & artisan cheesemaker.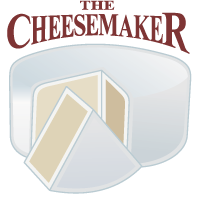 414-745-5483
10am - 6pm CST Mon-Fri
All orders shipped same day.


Shipping Included Within The Continental United States.
Mesophilic chr-hansen CHN-11
Product Description
Type LD (50 doses). This packet will inoculate 130 gallons (500 liters) of milk. Use the appropiate amount for your batch size.


Lactococcus lactis subsp. cremoris
Lactococcus lactis subsp. lactis
Lactococcus lactis subsp. lactis biovar diacetylactis
Leuconostoc
(freeze-dried direct set/DVI-Direct Vat Innoculation)

Use approximately 1/8 tsp. per 1 gallon(3.7liters), 1/4 tsp. per 2-5 gallons(7.5-18.9 liters) 1/2 tsp. per 5-10 gallons(18.9-38 liters).
The culture is primarily used in the manufacturing of Continental (Alpine cheeses) semi-hard cheese varieties with eyes, Gouda, Edam, Leerdam and Samsoe. CHN-11 will produce slightly less gas than the CHN-22 and Flora Danica, but CHN-11 is a faster acidifier. Flora Danica will yield the fullest flavor. Flora Danica and CHN-22 can be used interchangeably as the CHN-11 can be with little or no noticeable difference. However, when switching from Flora Danica and CHN-22 to CHN-11 you will need to take these properties into account.
Click here for spec and application sheet no 1.

Click here for spec and application sheet no 2.

Click here for Kosher cert.
Shipping included within the 50 United States. International shipping available.

---
Find Similar Products by Category
---
Customers Who Viewed This Product Also Viewed