"Blessed are the cheesemakers"
~ Monty Python
From Wisconsin - America's Dairyland
Everything for the serious home & artisan cheesemaker.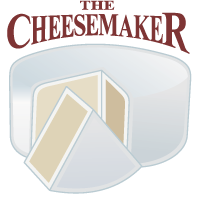 414-745-5483
10am - 6pm CST Mon-Fri
All orders shipped same day.


Shipping Included Within The Continental United States.
Super Deluxe Soft & Hard Cheese Making Kit
Super Deluxe Soft & Hard Cheese Making Kit
Rating:
( 1 product review )
---
Product Description
This Kit is for the serious or dedicated cheese maker who wants the ultimate collection of equipment and inoculants. I've carefully chosen items that you will need to make Camembert, Bleu, Gouda, Cheddar, Feta, Mozzarella, Chevre and many of your favorite cheeses. There are two great books represented in this Kit. Option No. 1 includes the necessary ingredients and tools to make many types of cheeses you may be interested in. These options solve some of the mysteries associated with 'what to purchase'. You can choose to purchase with or without the 2&6 Gallon Milk Capacity Plastic or Stainless Steel Cheese Press or the Dutch Style Cheese Press. If you have any questions, do not hesitate to call or write me. Shipping included within the continental USA. International shipping postage costs: email me or call prior to ordering or after after for exact postage cost to your destination.
Substitutions: If you would like to make a few substitutions, feel free, as long as the values are approximately close, leave a note at checkout or send me an email to steve(at)thecheesemaker.com.
Choose one of the following Packages.

Option No. 1
Deluxe Soft & Hard Cheese Making Package**
$544.95 Special Package Sale Price $462.97 save $68.10(shipping included in Continental USA)
Canada: $30, Australia/New Zealand: $50, UK: $45
Click here to add the international shipping cost.




Option No. 2
This option includes all items in Option No. 1-$511.98 value
plus the Two & Six Gallon Capacity Cheese Press. - $169.97 value
$714.92 Special Package Sale Price $614.97 save $94.98 (shipping included in Continental USA)
Canada: $55, Australia/New Zealand: $95, UK: $80
Click here to add the international shipping cost.





Option No. 3
This option includes all items in Option No. 1-$511.98 value
plus the Two & Six Gallon Capacity Stainless Steel Cheese Press-$279.97 value
$824.92 Special Package Sale Price $709.97 save $109.98 (shipping included in Continental USA)
Canada: $55, Australia/New Zealand: $95, UK: $80
Click here to add the international shipping cost.





Option No. 4
This option includes all items in Option No. 1-$511.98 value
plus the Dutch Style Cheese Press-$159.97 value, and Extra Large Tomme Mould & Follower-$47.94 value
$752.86 Special Package Sale Price $647.97 save $99.92 (shipping included in Continental USA)
Canada: $75, Australia/New Zealand: $120, UK: $100
Click here to add the international shipping cost.




**Deluxe Soft & Hard Cheese Making Package Includes the following:

*Below list corresponds to photos when scrolled.


Rennet:
Liquid Rennet 4 oz. (118.2ml) $12.97-$18.97
*Leave me a note at checkout which Rennet you prefer.

Inoculants/Ingredients:
Mesophilic Starter Series MA11 50 doses $12.97
or Chr Hansen CHN-11/19 $16.97
Mesophilic Starter Series MM 50 doses $12.97
Thermophilic Starter Series TA50 125 doses $28.97
Kazu Mesophilic Starter 50 doses $15.97
Lipase Powder-Mild LP 600 - 2 oz. /56.6g) $8.97
Penicillium Candidum Neige 2 dose $9.97
Geotrichum Candidum 15 2 dose $13.97
Penicillium Roqueforti 2.5 dose $15.97
Cheese Coloring (yellow-orange) 1 oz. (29.5ml) $6.97
Calcium Chloride (dry)includes fill bottle 2 oz. (118.2ml) $8.97
Citric Acid 2 oz.(56.6g) $5.97
Tartaric Acid 2 oz.(56.6g) $5.97

Equipment:
Small Tomme Mould $21.97
Two Camembert Moulds $27.94
Two Medium Moulds or similar $16.97
Large Tomme Mould $27.97
Medium Nylon Straining Bag $9.97
Large Nylon Straining Bag $11.97
Stainless Steel Curd Cutter $48.97
Stainless Steel Skimmer $12.97
Stainless Steel Ladle $14.97
Small Measuring Spoons 1/8th, 1/16th, 1/32nd tsp. (.616ml, .308ml, .154ml) $6.97
Reusable Cheese Cloth 2 sq. yards (1.6sm), 60 threads/inch. 32x28 threads/sq./in $8.97
2x2 ft.(61x61cm) Food Grade Draining Material $10.97
Salometer/Salinometer-Measuring Salt Brine $32.97
Six Bamboo Draining Mats $14.97
Large Draining Platform $9.97
Two Chèvre/Fromage Blanc Cheese Moulds $14.97
Large Pocket Dial Thermometer $12.97
Gram Scale from .01-70 grams $22.97

Books:
200 Easy Home Cheese Making Recipes Book $27.97
or click here to add $13 for this book Mastering Artisan Cheesemaking (in exchange for the 200 Easy...book)


Camembert/Baby Brie/Blue Cheese Making eBook* $9.97
*(a digital product downloaded after purchase)
---
Find Similar Products by Category
---
Product Reviews
Customers Who Viewed This Product Also Viewed