Everything for the serious home &
artisan cheesemaker.
From Wisconsin - America's Dairyland
"Blessed are the cheesemakers" ~ Monty Python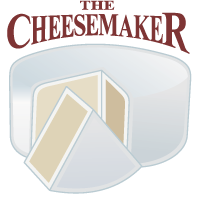 414-745-5483
10am - 6pm CST Mon-Fri
All orders shipped same day.


Shipping Included Within The Continental United States.
Six Gallon Capacity Cheese Press/Stainless Steel Hoop
Six Gallon Capacity Cheese Press/Stainless Steel Hoop
Your Price:
$199.97
(You save

$65.03

)
Rating:
(

1

product review )
---
Product Description
1. Spring loaded cheese press up to 6 gallon(22.5 liters) milk capacity.
Completely assembled. Locally made in Wisconsin-America's Dairyland.
Food-Grade Cheese Presses: Features 304 food grade stainless steel hoop and components, food grade HDPE pitched channel in base for easy expelling of whey. This press will produce a cheese up to 4 lbs.(1.8kg).

I've designed these presses to be easy to use and fast to clean. They are the best cheese presses for home-use on the market today. After using other home cheese presses, I decided to design a model with major improvements. Heavy-duty custom-made stainless steel spring will allow you to apply pressure 10-100 lbs.(4.5-43.3 kg.). These presses are very affordable and very high quality. The support arm easily attaches and unattaches. Excess whey is expelled at the base via a specially designed pitched channel to allow whey to spill off the press base in one direction. The six gallon capacity cheese press can be used with up to six gallons of milk. EASY TO FOLLOW OPERATING INSTRUCTIONS & PREPARING THE CURDS FOR PRESSING. HEAVY DUTY SPRING TO APPLY 10-100 LBS. OF PRESSURE FOR MAKING HARD CHEESE.
Special Offer: FREE cheese cloth* with every press. A $9.97 value.
This press will work when using up to six gallons (22.5 liters) of milk. Six inch hoop: Inside Diameter: 6 inches (152 mm)Height: 8 inches (203mm).
The amount of curds one can ladle into the hoop is based on the moisture content of the curd.

2 gallon hoop 6 gallon hoop
Minimum amount of curds(gallons): 1 2.5
Maximum amount of curds(gallons): 2.5(low moisture) 6(low moisture)

One gallon is 3.78 liters.

Click here to get all the specific details on this press.
Proudly Made in the USA.
Shipping included in the continental USA. Alaska, Hawaii, Puerto Rico, international shipping available.
---
Find Similar Products by Category
---
Product Reviews
This is awesome!

Posted by Sarah on 16th Jun 2014

After years of pressing my (amateur) cheeses with weights stolen from my husband's weight set, he bought me this press as a surprise. I have only made one cheese so far in it (just got it)but already I am in love.It's just so easy to use!Thank you Steve, it's always a pleasure doing business with you.

---
---
Customers Who Viewed This Product Also Viewed