Everything for the serious home &
artisan cheesemaker.
From Wisconsin - America's Dairyland
"Blessed are the cheesemakers" ~ Monty Python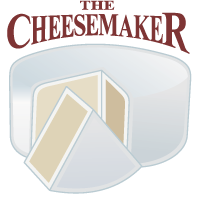 414-745-5483
10am - 6pm CST Mon-Fri
All orders shipped same day.


Shipping Included Within The Continental United States.
Small and Large Disposable Muslin Draining Bags - 5 pak
Product Description
These all natural soft unbleached muslin bags are great for holding draining curds while you massage the curd to expel additional whey.
Please Note: the threads are too course to drain ricotta or other fine cheese products. Easy to tie and untie a knot. The small size will hold up to curds from up to one gallon or a bit more of milk. The larger size will hold much more curd. These work great for hanging small batches of Chèvre or Feta curd.
Five Small Bags $6.97
Five Large Bags $9.97
Shipping included within the USA.
---
Find Similar Products by Category
---
Customers Who Viewed This Product Also Viewed