Everything for the serious home &
artisan cheesemaker.
From Wisconsin - America's Dairyland
"Blessed are the cheesemakers" ~ Monty Python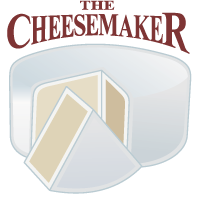 414-745-5483
10am - 6pm CST Mon-Fri
All orders shipped same day.


Shipping Included Within The Continental United States.
Product Description
Three Hour Cheese Making Workshop/Wine & Cheese Tasting-Saturday May 9 from 10am-1pm, Sarasota, Florida

Fresh Mozzarella Making Workshop
I'm teaming up with culinary expert, foodie and cook book author Marta Hudson to offer a three hour workshop in Sarasota**, Florida. We'll be using fresh farm milk to teach you how to make fresh Mozzarella using two techniques; Citric Acid and Culture. These two techniques will allow you to confindently make wonderfully tasting Mozzarella at home. Then, we'll make fresh Ricotta from the left over whey. Along with making Mozzarella & Ricotta, Marta will show how to make Queso Fresco, an easy and tasty fresh cheese. We'll sample some artisan cheeses as well as wine.
There are only ten spaces available so book now by clicking on the ADD TO CART button.
**Exact location of workshop will be emailed after you register online.
*
Marta Hudson Is A Self Publisher Author With a passion
for healthy, organic, non GMO foods. Her book can be
purchased at www.CookWithMarta.com.
Steve Shapson demonstrates making Fresh Mozzarella on local television.
---
Find Similar Products by Category
---
Customers Who Viewed This Product Also Viewed