"Blessed are the cheesemakers"
~ Monty Python
From Wisconsin - America's Dairyland
414-745-5483
10am - 8pm CST Mon-Fri
Shipping Included Within
The Continental United States.
About the CheeseMaker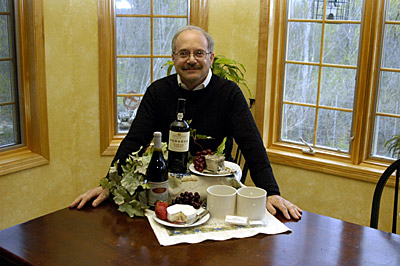 Steve's Biography & Credentials

As a 'food connoisseur' I have been into many aspects of slow food and gourmet cooking for years, including cultivation and hunting gourmet edible mushrooms, growing organic food and wasabi, home brewing and cheese making. My wife Mary Jo and I love to entertain friends and family with special dinners. Not fancy dinners, just good, fresh prepared food.

Several years ago, a customer stopped into my home brewing/winemaking store to purchase a floating thermometer.

When the customer told me that it was for making Camembert cheese, I exclaimed, "I had no idea you could make that yourself." Astonished, I asked if he could show me how. The next week, my new cheese-making friend and I made fresh Camembert right in my shop.

After proper aging, I was hooked on its creamy texture and complex wonderful flavor. That we made it ourselves added a certain magic to our enjoyment and made me instantly want to share it with all of my loved ones. Later batches proved more challenging so I dedicated my spare time to perfecting the making of flawless Camembert with every batch. During my research, I had became frustrated with incorrect information and missing details in many cheese making books.

In a short time I was making consistent batches of Camembert, Brie and Blue cheese and friends and family joined in making gourmet cheeses with me. The small cheese making gatherings gave way to larger workshops. I have taught courses and guest lectured at a number of local colleges and community centers, as well as culinary groups and wine shops, such as: Cardinal Stritch University, Culinary History Enthusiasts of Wisconsin, Bay View Community Center, Grapes and Grain, Gourmet Outfitters and Willy Street Co-op. I also conducted workshops in-home and in my retail store (Cedarburg Homebrew, Wine & Cheese).

I eventually developed a series of kits and guides to supplement my workshops. I feel confident that my fully comprehensive kit/guide can help anyone through the process of making delicious gourmet cheeses like Camembert, Brie and Blue and many other cheeses as well!
"Blessed are the cheesemakers."-Monty Python