Everything for the serious home &
artisan cheesemaker.
From Wisconsin - America's Dairyland
"Blessed are the cheesemakers" ~ Monty Python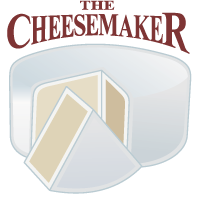 414-745-5483
10am - 6pm CST Mon-Fri
All orders shipped same day.


Shipping Included Within The Continental United States.
More Testimonials
Dear Steve, I wanted to say how happy I am with the cheesemaking kit I ordered from you, and also with the continued informational emails! I received my kit on Thursday and made my first camemberts yesterday. The process happened exactly how you described in the book, and the cheeses look great so far! Also, thank you so much for substituting vegetable rennet for me. It gives me so much peace of mind to know that I can now make sure that the cheese I use is vegetarian, and made from the milk of local cows that are grass-fed, raised organically, and treated very well. I can't wait to continue learning new cheeses! Thanks so much for everything!... Kind regards, Erynn Traverse City,Michigan
---
Steve, It is rare these days to see customer service done right. You have that my friend I am very impressed with your followthrough and the fact you stay in contact with your customers... Scott H. Ontario, California
---
Hi Steve, My son and I are having a blast together, making cheese with the tools, cultures and information you have provided. Many, many thanks! I'll be recommending thecheesemaker.com to all the people who are interested in making cheese - and I find that a lot ARE when I tell them I'm learning.... Thanks again, Matthew Columbus, Ohio
---
Steve, I'm writing to thank you for the great quality cheese bags! I am using them (almost daily) making raw tofu (sacrilegious to admit to the master cheesemaker.) They are sturdy, wash easily, work perfectly, are the critical factor making this a simple process. My cheese cloth days are over. I'm grateful for your website, speedy delivery and great customer service. Wishing you continued success. Joanne W. Ellensburg, Washington
---
Hi Steve I am happy to tell you I have finally made an awesome Camembert cheese after many attempts. If you would like I could send you a sample... You have been of great help to me and I am very thankful for all your feed back and additional information. I am going to attempt again after the holidays. We a very busy with all the Holiday orders we are receiving. Tony Kutter Kutter Cheese Factor
---
Hi Steve, In case I forget to tell you later, I think that you are awesome! I just got my shipment today - so fast, so reliable, thank you. I do a fair (okay, maybe more than a fair, but don't tell my husband) amount of internet buying, and you are far and away above all the others. And thanks for the brush - it will come in very handy for my new purplish wax. This Sunday is "goat cheese" day - which is the real reason I signed up for Sacha's class. (Course, I had no idea that I would be hooked on cheesemaking, from day 1) Thanks again, till next time Leslie T. Davis, California
---
Thanks Steve! Our Camembert turned out amazingly well. And we found a source for raw milk right in our neighborhood. Maybe we will try this recipe next. Thanks for all the info. Roy K. Chicago, Illinois
---
... The feta recipe you posted is excellent. I have made three batches already and all gets eaten before it even gets properly matured! Right now I have my first gouda in the press. Soon I will be needing more cultures, but at the moment everything rolls well. Also, I commend your customer service. I just had some bad experiences with online orders and customer service (extra cost, parts of shipments missing) and I just wanted to tell that you're doing good work. Keep it up :) -Jari H. Helsinki, Finland
---
Hi Steve, I have to tell you that I LOVE your cheese press. My mom bought a second cheese press for me as a gift from ebay, but I don't use it because it is so poorly made, in comparison to yours. Right now I'm doing some farmhouse cheddars (the first batch should be ready to eat next week!). I really appreciate the additonal info you've sent. Thanks! Lori G Cook, Minnesota
---
Steve, I have just tried my first Brie and was amazed. One that it was so easy to make and two that it tasted amazing. I now have two blue cheese working as well as two more Brie. I have been using the raw milk straight from the Dairy. I told all of my friends about it, now they are wanting to learn as well. Do you know how to make St. Andre How do you make a tripple cream cheese? Thank you, Best, Josh S Washington, DC
---
Steve- My wife and I have just started our batch of blue and have been aging our Camembert for a few days now. what do you recomend for chevre, gouda, havarti ??? We love the kit and have a new hobby thanks to you! Joel & Angie E. Lakewood, Ohio
---
Hi Steve My last batches of cheese have been far and away the best ever...for two reasons, that I can see; a) using that fresh whole milk b) very diligent to squeeze out as much water as possible The brie cheeses are just now becoming ripe and are superior...just need to get a little stronger. But, we're extremely pleased with the texture. The twin blues are ripening nicely too and are nice and firm. Each must be about 4-5 lbs I would guess. Anyway, they'll be very tasty and photogenic for Thanksgiving! Best wishes, Britt Germantown, Wisconsin
---
Hi Steve You have a nice site - very helpful. So far I've only made mozzarella and ricotta and I've done that for years, growing up on a small farm and being Italian that's how you make lasagna, manicotti or any of the cheesy meals and deserts I grew up with. It was like making the sauce, never thought much about it; it's all a part of the process of home cooked meals. Now I want to try making cheese - real cheese, parmesan, Romano, provolone, cheddar. Thanks! Debi Norwich, Connecticut
---
My Dear Steve, This is a note to tell you how much I enjoyed your Camembert Cheese Making Workshop at Cardinal Stritch University. I am a true Wisconsinite from way back and I love cheese. Camembert is one of my favorites. My daughters serve it warm at parties with various toppings. I didn't know it was so simple to make and you don't need a lot of equipment. And you can use milk you buy at the grocery store. I would recommend your cheese making course to anyone who likes to play around and learn about food. Sincerely, George Restaurateur Wisconsin P.S. I forgot to mention the cost wise savings to make your own Brie. They are amazing. And you get to do some bragging. Dear Steve,
---
We got the press today. Amazingly fast! As I anticipated from your email, it is superb. My wife is reading the instructions as I send this. I really appreciate your help and professionalism. I will make sure she goes to your website and I am sure you will have a satisfied customer for life. I left positive feedback on EBay. Don
---
Hello Steve, Thank you for your attentive support. We are almost done with our remodel, have installed an under counter refrigerator as the dedicated "cheese cave", and are about to embark on our first cheese batches! The e-book is very informative and I am so appreciative that you included the information I need to make me a success. I have tried cheese before, but only using rennet, you can guess, it was unsuccessful. I will be in touch with you as soon as we make the first batch. As a side note, I am also a wine maker. Actually won a bronze at the state fair in CA. Having just moved to OR, I know that I will have less wine making, but I can start on a new adventure. Thanks for offering such a nice site with everything I could possibly need!! All the best - Pam
---
Steve I am having a ball. Here is my website. I will have some media coverage coming out in December and will share that. Enjoyed your recipes. Keep up the good work! Haute Goat Creamery. Thanks Nancy Lubbock, Texas
---
Steve I purchased your products for my son in law for Christmas last year. He has enjoyed them so much and we have enjoyed what he makes for all of us. So far as I have been told all has gone well other than the mess he can make doing it but aren't all of us wife's particular about what goes on in our kitchens. Thanks for all the info and products. Have great holidays. Maggie Leawood, Kansas
---
Hi Steve, Yes, I am having success! We ate our first camembert on Thanksgiving and the blues should be ready for Christmas. They turned out amazingly. I will send you pictures, etc. once the blues are done. . I am making another batch of camembert as I write this! Thanks for your help and I'll keep you posted.. Amanda Buffalo, New York .
---
Steve- My wife and I have just started our batch of blue and have been aging our Camembert for a few days now. what do you recomend for chevre, gouda, havarti ??? We love the kit and have a new hobby thanks to you! Joel & Angie
---
Steve, Thank you very much for the updates. The ripening-time info is very timely. I have spent the past couple evenings reading everything I can find regarding making Camembert. I seem to be having success. Just this evening, we ran into a friend that I gave a cam to a few weeks back. He said that he and his family loved it. Everything from warming the milk to removing the moulds and salting the cheeses seems very straight forward. It is the affinage process that keeps me guessing! The full white bloom comes on nicely. It is the slight moisture that beads inside the wraps and the very firm texture at four weeks age that has me a bit worried about my current batch. (Next batch I will ripen less and add the rennet sooner.) Again, thanks for all your input. (I am hooked!) Bret
---
Hi Steve, just wanted to let you know that my first camenbert and blue cheeses came out great. I abused the curds when making camembert, cause I thought I was making blue, but it turned out good anyway. I couldn't wait longer than 30 days to taste the blue. It is very mild and wonderfully creamy. I shared the blue and it was declared addictive! Not bad for the first time. Thanks!! Martina F. Bakersfield, Ca
---
Steve, I just wanted to reply and say thank you. My two first Camembert are almost covered in a beautiful white mold; so far my experience has been positively inspiring. Best regards, Dawn S. Duluth, Georgia
---
Dear Steve, Curtis just got his cheese making kit and is ecstatic! Thank you so much for being so prompt with your shipping and so generous with all the extra advice/tips and follow-up. We will let you know how our cheese-making weekend goes. Warmest regards, Anca I Portland, Oregon
---
Steve, You have absolutely the best customer service and follow-up that I have EVER seen - We have a small business and I would love to have the same level of customer service. Please tell me - what books have you read, classes you took, anything else? It's superb (even answering calls on Sunday). Thanks. Patti Warnke (John) St. Johns, Michigan www.ourfarmanddairy.com