Everything for the serious home &
artisan cheesemaker.
From Wisconsin - America's Dairyland
"Blessed are the cheesemakers" ~ Monty Python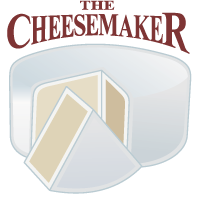 414-745-5483
10am - 6pm CST Mon-Fri
All orders shipped same day.


Shipping Included Within The Continental United States.
Testimonials
CheeseMaker testimonials, photos/stories from fellow cheese makers and some recipes.


Hi Steve,

Just got back in town after Easter break- thanks soooo much for all your help... have found art and passion in cheese, and thanks to you, I have been able to throw myself into serious home cheese-making, and have learned such a lot, very quickly, and all my cheese has been so delicious. Now come the years of slow refinement and mastery...I know I will be making cheese forever!


All the best,
Sacha L. :-)
Davis, California


---
Hi Steve,

I've done it already, i had my curds fermented for 5 hours more to have that nice white glossy cheese although i need more practice on hand cutting of mozzarella during Hot Bath. Attached are pictures of my third batch. I took pictures of my uncooked Margherita Pizza while heating my oven, Im really happy for this one. Regards. Thanks a lot Steve.

Nilo R.
---
Steve;

Here are some pictures of my cheesemaking journey. I attended one of your classes in the spring and then was fortunate enough to find a local source of goat's milk, so I've been experimenting madly ever since. Hope you will offer an advanced cheesemaking class I could attend sometime! I've mastered the camembert and feta, my mozzarella is a rocky experience and I've not tried any hard cheeses yet.
Thanks so much for opening up a whole new world to me! Indeed, life is too short to eat bad cheese.

Karen K.
Goshen, Indiana
---
Dear Steve,

Happy New Year from a happy camembert maker. We had the cheese for breakfast. It was super delicious. Thanks for all your hints and help.

Yours,
Ted B.
Ely, IA
---
Dear Steve,
Thank you for the updates!

My wife and I are experienced home-brewers (beer and wine (and yogurt and bread)) and have all the beer making and sanitizing routines nailed down well. But, making cheese will be a new experience for us. I haven't had a chance to fully soak up the instructions in your guide, but it seems pretty straight-forward. And the pictures ... are worth a thousand words, as they say.

Will let you know if we have any questions.

Here's a photo Stacey took last Sunday before we sat down to enjoy our first homemade cheese. And, it was so good! This weekend we plan to make our first Stilton.

Best regards,
Mike F.
Fairfax, California
---
Steve,
Thanks for helping us make our wedding memorable. With your help, we made over 170 bottles of wine and 25 Camembert cheeses. You would not believe how many people complimented us on the fantastic taste of the wine and cheese. Making the Camembert cheese was so easy I couldn't believe it. It turned out creamy and delicious. If anyone likes Camembert or Brie cheese they have to try making it themselves. I would recommend making a batch to anyone.

Sincerely,
Derek & Niki F.
Glendale, Wisconsin
---
Steve:

This cheese is insane good. Made a year ago and cellared. It's a Swiss style that really took a long time to come into it's prime but is incredible now. Does not taste like a Swiss...you'd guess it was some weird small batch French style aged in a cave.

Britt A. Bunyard
Publisher & Editor in Chief, Fungi Magazine
---
Steve,

Thanks for taking the time to talk with me yesterday. It was nice to actually talk to a real person about what might be growing in my basement. After I got home from work yesterday I cut open the other block of blue cheese. See the attached file. It's much different than the last. It has less of the orange/red mold and is much more firm. Now I'm beginning to understand the differences that moisture content makes to a cheese.

Thanks again.
Maria M.
Minneapolis, Minnesota
---
Hi there Steve,

Just could not wait any more !!!!!!!, so "we succumbed to the Camembert". Have just cut and tried the Camemberts, FANTASTIC !!!!! Really great recipe of yours. Even at this 'early stage' the taste and texture is fantastic. Does have the odd bit of Blue hiding there, but it is not noticeable in the taste. We'll leave the others 'till a later date, IF WE CAN, and keep on trying the different ages. Unfortunately I only made 12 Camemberts in my 1st trial but hope to do a much larger batch shortly. Should be about 30 Camemberts. Will keep you posted. Many thanks for ALL your input, best wishes to you and all at home.

Keith & Lynne B.
Christchurch New Zealand
---
Steve,
I had a mystery cheese that got lost in the back of the "cave" - it actually turned out deliciously - the core is not chalky but creamy. The rind is delicious. Not sure I can duplicate it, but am going to try.Thanks for the extra instructions. BTW, my pyrenees goat tommes have finally turned the toasty caramel color it's supposed to. Exciting. Will be able to taste in a few weeks (raw milk cheese). Sure having fun. You have been a great help.

Best,
Thea
Oregon

Note: By accident Thea made a blue/camembert. Looks very well displayed on a blue plate.
---
Baked Truffled Brie en Croute
courtesy of
Linda T.
Ontario, Canada

4 ounces cream cheese, room temperature
1/2 teaspoon salt
1 tablespoon truffle oil
1 teaspoon fresh shaved truffles or truffle paste (optional)*
1 sheet frozen puff pastry, thawed
1 small (8-ounce) round (wheel) brie cheese
1 egg, lightly beaten
Baguette, crostini, or crackers
* NOTE: You always want to maximize the truffle flavor, using the least amount of the ingredient as possible. So always slice into paper-thin wedges or strips. Use a truffle shaver (similar to a cheese grater) when shaving truffles.

Butter a baking pan and line with aluminum foil. In a small bowl, combine cream cheese, salt, truffle oil, and shaved truffles; set aside.
On a lightly floured surface, roll out sheet of puff pastry 1/8-inch thick (approximately 15 inches in diameter); using the brie as a guide, cut out one round the size of the brie for the top and cut another round 1-inch larger. Using a small cutter (any shape will do), cut out some decorative pieces.

Half brie cheese horizontally; spread the truffle cream cheese evenly over the bottom half of the brie. Place the top half over the truffle cream cheese. On prepared baking pan, center the brie cheese on top of the larger pastry round; wrap pastry up over brie (without stretching). Brush border with some egg and top with remaining smaller pastry round; pressing edges of dough together gently but firmly to seal. Brush top with egg. Arrange decorative pieces over the top of the pastry dough; lightly brush with egg, being careful not to leg egg drip over edges (this would prevent them from rising). With the back of a table knife, gently score side of pastry with vertical marks (being careful not to pierce through dough). Chill brie, uncovered, 30 minutes to set egg wash. Brie may be made to this point one day ahead and kept chilled, covered loosely.
Preheat oven to 425 degrees F.
Bake Truffled Brie in middle of oven 20 minutes or until puffed and golden brown. Remove from oven and let stand in pan on a rack about 20 minutes for a very runny melted cheese or about 40 minutes for thicker cheese. To serve, transfer to serving dish and serve with baguette, crostini, or crackers.
Serves 6 to 8 as an appetizer.
---
Cheese in Puff Pastry with Fig Sauce

courtesy of Linda T. Ontario, Canada


For the Cheese
100 g (3 1/2 oz) puff pastry dough
200 g (7 oz) camembert cheese , cut into 4 wedges or rectangles
1 x egg, separated
Lamb's lettuce (mâche)

For the Fig Sauce

1 x shallot, finely chopped
1 clove garlic, finely chopped
15 ml (1 tablespoon) butter
4 x Blue Ribbon Orchard Choice-type soft dried figs, finely diced
125 ml (1/2 cup) dry red wine
125 ml (1/2 cup) balsamic vinegar
15 ml (1 tablespoon) sugar

Directions:

For the Cheese Line a baking sheet with parchment paper.

On a floured surface, roll the dough into a 25 x 38-cm (10 x 15-inch) rectangle. Arrange the cheese pieces along the edge of the shorter side. Cut the dough between the pieces, leaving a 1-cm (1/2-inch) border around each. Brush the border with egg white. Cut the remaining dough into 4 squares and use to cover the cheese pieces. Trim any excess dough, leaving a 2-cm (1-inch) edge. Fold 1 cm (1/2 inch) of the edge back toward the cheese. Using the tines of a fork, press the edge around each piece to seal. Make a pea-sized hole in the dough above each piece of cheese. Transfer to the parchment lined baking sheet. Beat the egg yolk with the remaining white and brush the dough with the mixture. Freeze for 20 minutes or refrigerate for 45 minutes.
---
Thanks Steve;

I always make ricotta from my whey. I have been making cheese for 2-3 years. Our problem in NZ is we have great milk (and bought cheeses) but only one supplier of cultures etc and it is VERY expensive, so I am hoping your supplies are what we want so that we can make more cheese! I make Wensleydale as my everyday cheese as the grandkids like it, but I also make Stilton, Camambert, feta, cheddar, and occassionally parmesan but it takes so long to mature!

My husband makes cider for us and friends, 200 litres last year. He used to make a prize winning dry red wine. We are going to have a go at Perry, a drink similar to cider made with pears. The Stilton (pictured left) is three months old made with 9 litres of fresh Holstein milk in a 22cm by 10cm mold. I find this size works well for maturing and cutting for our family. The cheddar is made from 8 litres of the same milk, five months old with no colour added and waxed to keep the cultures from other cheeses away!

Linda
New Zealand
---
Steve,
here's some pics of my first Camembert cheese, just before wrapping, and 6 weeks later.
I followed your directions using skim milk and heavy cream. Creamy and very tasty! I am well pleased with my first effort.
As I hone my cheesemaking skills, and have now found a source for fresh raw milk, I can just guess how much better future cheeses will be.
They bread is home made using the whey instead of milk or water. If you want the simple recipe, let me know. I can hardly wait to taste my first blue cheeses!

Regards,
Paul C.
Lincoln, Illinois
---
Steve;

Well, I finally baked my little wheel of cheese wrapped in phyllo. I cut it in half to make two layers (like a cake) and drizzled honey and pecans in the middle before wrapping it. 350 for 15 minutes and it was oohey gooey goodness. The worst part was realizing that was the last of my cheese and I have to hope my jersey freshens this spring before I can make more. (call me a snob, but I cant stomach store bought milk after having Tinkerbelle's....) The honey made the cheese turn even more yellow, but it tasted great.Thought you might like a photo.


Diana's recipe:
For my size wheel I used about 8 sheets of phyllo dough. I took my wheel and cut it through the middle to make two thin layers (like making a two layered cake). Then I spread a nice coating of honey on the cut sides of the cheese. I sprinkle a layer of crushed pecans on the honey and sandwiched the halves back together so it looked like it id before it was cut, now it just has a inner layer of honey and nuts. You could probably use whatever type of crushed nut you prefer. You could even get fancier and add some chopped dates/ figs/ or even dried sweetened cranberries!!!.. Then I brushed about 8 sheets of phyllo dough with melted butter and set the wheel in the center of all eight sheets and folded the phylo over so it was all wrapped like a little present. I put it on a greased baking sheet with the phyllo wrapping ends on the bottom- so it doesn't unfold while baking, and put it in a preheated oven at 350 for about 15 minutes, until the phyllo was brown and toasty. I let it rest for at least 5 minutes before cutting. Now if your wheel is bigger you may have to let it go longer or use more phyllo. I don't think you can really mess it up, however it comes out I am sure it will be good.

Mike & Diana Austin
Misty Mountain Farm
Grantsville, WV
---
Hi Steve,
I just wanted to take a moment and thank you for answering all my rookie questions and helping me make my first batch of blue cheese. I'm glad to learn my cheese looks normal - it sure is blue-green - so I guess I did it right!
I couldn't have done it without your excellent book. The step-by-step instructions with photos are invaluable - and your personal hand-holding - well, what can I say?
You're the BEST!

What a fun hobby too! Who knew making artisan-quality cheese was so easy? Well, I guess you did. Thanks for sharing your knowledge and passion with the rest of us and especially for all your personal help and attention!

Most sincerely,

Tom B.
Mequon, Wisconsin
---
Hi Steve,
I made the camembert/brie cheese from the kit and ebook I bought from you back in July. We tasted it this morning. It is fabulous!! Next, I'm making the blue cheese. Thanks for the great kit for trying this and the really great instructions.

Karen Z.
Jefferson, Maine
---
Hi Steve,

Just wanted to tell you I made 8 Camemberts for Christmas and they came out great!!
My family loved them.
Thanks for all your help. Attached is a picture of me and my creation.

Sincerely,

Corry De R.
Santa Clarita, California
---
Hello Steve
My mother Isa has used cheese making products from Steve.
I would like to take this opportunity to tell anyone thinking of trying to make these cheeses that Steve's website is the place to give it a go.
Not only are the instructions clear and easy to follow, the end results are really worth eating.
We have now made a number of cheeses from Steve and have every confidence in endorsing his products and methods.

Jim M.
Scotland, UK
---
Steve,
Here is a picture of my first batch of Camembert, molds filled and 24 hours after starting it. I would highly recommend your instructions and kit for a first time cheese maker. Nowhere else have I been able to find the step by step instructions.

Thanks again,

Charles B.
Wisconsin
---
Hi Steve -
Thought to write you a testimonial:
My cheese making class with Steve Shapson was thorough and delightful.
I came away with explicit directions for making two different cheeses and great sources for any supplies I might need.
He was available to answer any questions that came up as I got started.
It was easy.

Betsy T.
Madison, Wisconsin
---
Hi Steve,

Thank you for your recent update on making blue cheese. Your recipes are great, easy to follow, and produce excellent results, even for a novice (like me!!).

Thanks,

Carl K.
Massachusetts
---
Hi Steve:

Your Stilton Blue Cheese recipe worked great for me the first time.
I had 2 failed attempts from someone else's recipe before I tried yours.
My friends love it. They say it's the best blue cheese they've ever tasted.
I'll be making lots of it now because it's a great hobby for me and my friends all want more of it. I'm going to make your Camembert/Brie soon.
Thanks for all of your advice, Steve.......

Les K.
Oregon
---
Hi Steve:


The Cams were the first cheeses I tried, and they are beautiful. I simply followed your instructions as best as I can, and things came out great! Since there is nothing but store milk out here, I am pleased with the results. They are about a month and a half old right now, so we are going to try one soon. I'm surprised that the white mold is still as active as it is. The cheeses still feel furry to the touch.

I can see that they are settling down now though, so I think in a week or two we will try one. The Stilton were inspired by a recent trip to London, where we had the privilege of stopping by Neal's Yard and really spent some quality time with the people there. My next project will be made with (hopefully) raw mild, or only pasteurized milk. I've included some photos of a trick I figured out, due largely to going out of town for a week, and my Stilton still moisturizing the lid of its container. I had to mop water beads off the lid of its aging box, and I didn't want to leave the lid partially open for a week, because I didn't want the beautiful blue molds to dry out. So my solution was to 'suspend' a paper towel across the opening, and then snap the lid in place. It works wonderfully! All I needed to do was put two layers of towel over the open top of the container, snap the lid in place, and enjoy the Oregon coast for the Christmas Holidays. When we returned, the towel had absorbed quite a bit of moisture, but NONE of it had dropped onto the top of my cheese! I'm sure plenty of people have already figured this out, but it might be a worthy addition to your cheese making instructions, in case people start a cheese and need to leave town. This is a simple solution to help cheese heads sleep better at night. I still have a piece of towel in there, so I don't have to baby-sit quite as much. OK, that's it for now, I'll keep you posted on the next cheese we do!

Dave C.
Wildomar, California
---
Hey, Steve!
I've downloaded my eBook, and absolutely love it!
I like that it has simple to read and follow instructions, and I love how you make use of common household items!
And your love of the craft really shows through, and gets the reader psyched up-at least that's what it did for me, LOL!
I really think you are on to something, and can't wait to get my kit!
Thanks again!

Vanessa U.
Canada
---
Steve's kit is great.
The instructions are clear and easy to follow.
The recipe itself is very forgiving and the results are delightful.
Steve answered all of my questions and offered encouragement.
I had a lot of fun with this and am looking forward making camembert on a regular basis.
Take care.

Michele
Seattle,Washington
---

I just wanted to thank you for all your cheesemaking help and support. Your book is a tremendous hands-on resource, and along with your supplies and cultures, had me producing great camembert from the very first batch. I have been producing batches of 8 almost monthly for a year now with consistent success.

Best regards,

Brian B.
New York, New York
---
Steve,


I made the two camembert cheeses yesterday and I'm very happy with how they look this morning. The book you wrote has very clear with explicit instructions so I was successful on the first try. the steps were easy to follow and my resulting product looked just like the pictures in your book.

My refrigerator won't go any higher than 38 degrees so I'm using my garage for the 42-48 degree ripening process. That works fine in Colorado in the winter. I will have to get a cheese ripening refrigerator for the garage for the summer. I have been a cheese lover for many years. My first trip to France taught me what cheeses can really be like and how wonderful and different they can be from most American made cheeses. I have long wanted to make my own cheese and you have opened up a whole new world for me. I can't thank you enough.
I have ordered more cultures so I can keep a good supply of cheese rotating. I'm sure I will be a customer for a long time.
Many thanks,

Fred B.
Montrose, Colorado
---
Suhaizee and his family.
They live in Malaysia.
They just started making gourmet cheese.
His family is eagerly awaiting his success.
---
This cheese was really easy to make and aged well in my refrigerator. I have never had one of these not turn out just like Steve said it would. I had been put off trying to make Camembert/Brie in the past because I was always told it was very temperamental to make, but I have found with Steve's directions and supplies it really couldn't be simpler. If you have spare fridge space, you can make this!

Mike and Diana Austin
Misty Mountain Farm
Grantsville, WI