Everything for the serious home &
artisan cheesemaker.
From Wisconsin - America's Dairyland
"Blessed are the cheesemakers" ~ Monty Python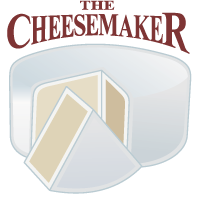 414-745-5483
10am - 6pm CST Mon-Fri
All orders shipped same day.


Shipping Included Within The Continental United States.
Fresh Kefir Grains/Free Kefir Culture/Recipe
Fresh Kefir Grains/Free Kefir Culture/Recipe
---
Product Description
Our fresh Kefir Grains include approximately 2-3 tps./30-35 grams of fresh Kefir grains, circular piece of breathable cloth(for your starter jar), rubber band and instructions on how to care and maintain, proprogate your fresh milk Kefir grains. Our Kefir grains are proprogated using only highest quality fresh local pasteurized cow milk. Some suppliers sell dehydrated Kefir grains which do not work as well as fresh grains. Our Kefir grains are made fresh each week. Prior to shipping they are flash frozen to preserve their vitality during shipping. Real Kefir grains will produce a full flavor profile, making authentic Kefir. These Kefir grains will proprogate, producing more grains. Working with real Kefir grains is easy. A few minutes each day will make the process simple and produce a superior product. Healthy and probiotic, Kefir is an excellent supplement to your diet. One tablespoon can make one quart or liter of Kefir within 24 hours. When you receive your fresh Kefir grains, you will want to revive them a bit by giving them a fresh batch of milk, using approximately 2-3 cups(473ml) of milk and allow them 24 hours to make your first batch of mild Kefir. Twenty-four hours later, strain the grains through a moistened paper coffee filter or fine cloth, then add the grains to a fresh batch of milk. All you need is a glass or plastic jar to grow your Kefir in. Milk Kefir grains can be used to make water Kefir.
Free packet of Kefir culture is included with each order. Use this dry Kefir culture and compare the flavor and texture. Kefir recipe.
PLEASE READ: Important notice on shipping Fresh Kefir Grains: Shipping(Priority Mail) is included within the USA.
International Shipping: If you're ordering Kefir Grains only we reccommend Priority Mail to save time in transit and insure your grains will arrive healthy. You may choose First Class Post which may add on additional days in transit.


Shipping included within the USA & Puerto Rico(priority mail).
International shipping options:
Canada: First Class Mail: $4.00. Priority Mail: $15.00.
Europe/Asia: First Class Mail $7.00 Priority Mail: $20.00.
---
Find Similar Products by Category
---
Product Reviews
It could work for you!

Posted by JerryB on 31st Dec 2015

The first three batches disappointed me much. I even wanted to throw these grains out and stick only with my very reliable process for making cultured sour milk (and farmer's cheese.) Then I decided to split the grains into two groups: one made up from the grains sitting at the bottom, and the other one with the grains harvested from the open surface top. The 'bottom portion' immediately produced acceptable for my taste kefir. The 'floating portion' split again with 2/3 sinking down. I have decided to observe the 'floating portion' for a few more batches. Good luck! Note from Steve/thecheesemaker.com: Making sour cream with Kefir grains might be challenging to separate the grains from the thick cream. Using the grains to make Kefir from milk, the heavier grains will sink and others will float, based on their density, yet they're all the same. Best way to collect the growing grains is to use a course strainer. Then place the grains back into new milk. The grains will double every ten days if fed new milk daily. Check the Kefir 8-12 hours later to judge its sweetness. Longer time will produce more acidic Kefir.

---

Great Product!

Posted by L. Thomas on 12th Sep 2015

I was a little apprehensive on the condition of the kefir grains after shipping. I was very surprised that they retained their potency after the first "feeding". I actually had to divide the grains after the second batch because they were too effective. We now love making our own kefir!

---

Love the smell

Posted by Barbara on 6th Jul 2015

When I opened my little package of kefir grains they smelled so good! Yeasty in a good way. And it was a sizeable amount, more than I expected. I made a batch of milk kefir that I'm going to use in place of buttermilk in my cornbread. Now I'm making water kefir. I really prefer that flavored with lemon juice. That and kombucha have helped me get over my diet soda addiction.

---

Second Time Around

Posted by Ryan H. on 29th Nov 2014

I bought grains from another site and they took forever to get going. I bought these as an attempt to get a faster batch. Arrived in great condition taking about a week to produce clean tasting kefir in a cooler kitchen. I ended up giving away my original grains. Easily handles 3/4 of a gallon per ferment.

---

Good product

Posted by Unknown on 18th Apr 2014

Came on a hot day.Was flat and gooey. Put it in warm milk right away and it was fine.

---

Making good Kefir

Posted by Michelle L on 14th Jan 2013

"I've been having fun getting to know my new kefir grains. I am very happy with the quality and freshness that they arrived in. After following the enclosed directions they are now producing a quart of creamy, zippy, tangy kefir every day and the grains have even started multiplying. Kefir is my new favorite breakfast... it's been a little over a week and I'm already noticing an improvement in my tummy and skin issues. Thanks Steve for my new kefir babies! Yours in health, Michelle L., Olympia, WA"

---
---
Customers Who Viewed This Product Also Viewed