Everything for the serious home &
artisan cheesemaker.
From Wisconsin - America's Dairyland
"Blessed are the cheesemakers" ~ Monty Python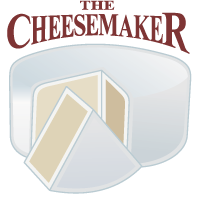 414-745-5483
10am - 6pm CST Mon-Fri
All orders shipped same day.


Shipping Included Within The Continental United States.
Dutch Style Cheese Press with Whey Drainage Tray/Insert
Product Description
You will love using this new Heavy-Duty Dutch Style cheese press. Made in Wisconsin of hand selected top premium hardwood maple* or ash* (safe for food use). Our press is designed and built by a local expert wood craftsperson. Not only it is the Best Dutch style Press on the market, it offers more leverage. Marked notches on the lever arm offer 3,4,5 and 6 times weight. That means just one plastic jug of water weighing 8.35 lbs. can exert nearly 50 lbs. pounds of weight on your cheese. Add another jug or any other weights and this press can exert more weight. The Dutch Style Press is a great value for any home and small artisan cheesemaker. You won't find a better made or more intelligently designed Dutch style press like ours.
You have the option to purchase a Small, Large or Extra Large Tomme Mould (include lid to press the cheeses) at a reduced price, and No. 50 or 60 grade cheese cloth included at no cost (value $9.97). Or choose the 6x8(inch) stainless steel hoop and HDPE food grade plastic follower.
NEW: Now included with every Dutch Press is our Custom Designed Whey Drainage Tray, a $21.97 value and our food grade polypro insert, a $6.00 value.

Press Size(outside dims): length 20 in.(50.8cm), width 12 in.(30.4cm), height 21 in.(53.3cm). Length of lever arm 34 in.(86.3cm).
Important facts: The lever arm comes in two pieces for easy storage and is strong enough to hold as much as five gallons of water weighing nearly 42 lbs, creating nearly 250 lbs of force. For most cheese pressing, much less is required. You can hang various weights on the lever arm at different positions, which will add to the total amount of force pushing down on your cheese.

*Urban Wood: All woods are reclaimed from local sources in Wisconsin, reducing forest clear cutting, landfill use and air pollution. No trees are harmed in the manufacturing of our presses.

This base on this press can accomodate a hoop or mould up to 9 7/8 in.(25cm) width x 11 7/8 in.(30.1cm) width and 11 1/2 in.(29.2cm) height.
Click here to see usage information.

There are various choices of moulds or hoops to use with these two dutch style presses. Recommended moulds are shown here. Or you may want to use one or more of the Stainless Steel Hoops (moulds). Cheese cloth recommened 50 or 60 grade).

Proudly Made in the USA.
Shipping included within the Continental USA. Alaska, Hawaii, Puerto Rico, International shipping available.


---
Find Similar Products by Category
---
Customers Who Viewed This Product Also Viewed