Cheese Stories - Hello from France
Posted by Bob Eifling on
PUBLISHER'S NOTE: Bob Eifling, 'our man in France' residing in a small French town where few, if any speaks English. He wants to learn the language and understand the culture. He arrived the first week of October, 2007. Bob is seeking out the local cheese and wine makers. His reports on these two great culinary wonders will be published on this web site for you to enjoy. -Steve Shapson

Hello from France:

After arriving in Paris and retrieving the rental car we discovered that we had made a good decision since there was a taxi strike in progress. You don't have to spend much time in France before you experience the joys of the work stoppage by public, or private, transportation. While they are normally only one day, if it is the day you want to go somewhere, it is a real pain.

The village of Laruns where I will be spending my two months is about a six hundred mile drive from Paris, so we decided to break it up into a two day trip spending a night in a French B&B (chambre d'hote) about two thirds of the way.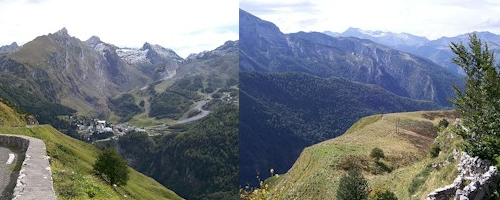 The one we selected was near the village of Belvès in the Dordonge region. Most Americans who have traveled in France know about the chateaux of the Loire Valley, but the Dordonge has about 1,200 chateaux and driving to Belvès we saw several.

The propriétaire of the chambre d'hote in which we stayed suggested that we have dinner with a local farmer who raised and prepared everything for the meal with the exception of the bread and wine.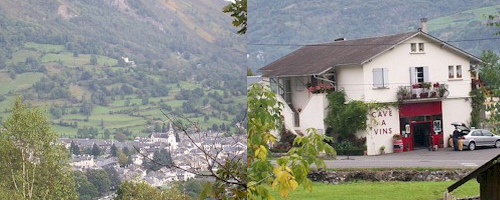 Arriving at the farm about 7:30 we were invited in and commenced the experience. The first course was "potage du carcass" (soup made from duck carcass and vegetables). Second course was three different terrines/pâté (vegetable, pork and chicken), a duck rillete (pieces of duck meat in duck fat) and as if that wasn't enough, two large pieces of foie gras de canard (fatted duck liver). To balance the second course we were also served a salad made from items grown on the farm.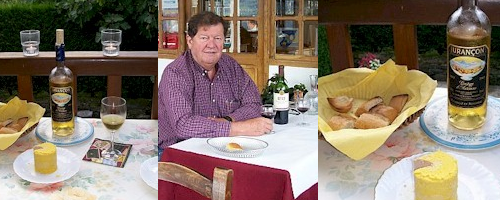 After letting things settle we were presented the main course, a full magret de canard (fatted duck breast) and two pieces of confit de canard (duck legs preserved in duck fat). Have you noticed I use a form of the word "fat" in most courses? If you have a heart doctor don't let him read this note.

I almost forgot, we also had a bottle of Bordeaux wine to keep us hydrated during the meal and to round it out we were served a plate of four different deserts. Ironically there was no cheese course.

Cost of the meal, including the wine was 49 euro for two people.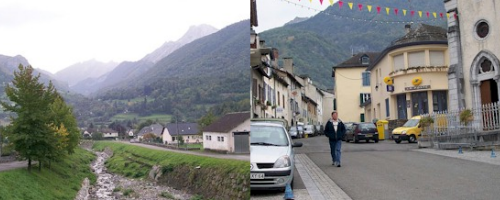 The next day we completed our journey to Laruns arriving late in the afternoon. Laruns is in the Southwest of France at the base of the Pyrenees Mountains less than twenty miles from the Spanish border. The area offers many forms of sports; biking, skiing, hiking, kayaking, fishing and mountain climbing, but Laruns is a farming community and the major product of the area is it cheeses from cows, goats and sheep.

Our first surprise was opening the door from the apartment to find a herd of sheep passing by on their way to be milked. We soon learned that this happens several times a day with different herds. In the town square is a fountain and it is not unusual to have the square covered with sheep stopping to have a drink before continuing their journey.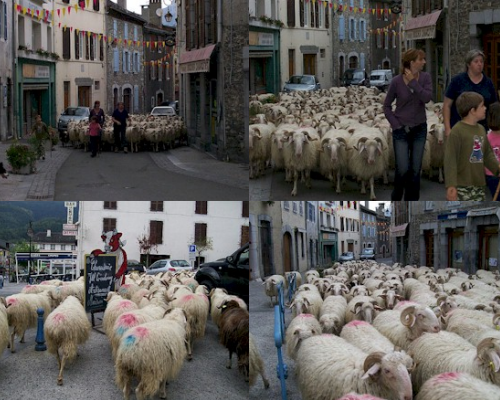 -Photos by Cathy Markus-Eifling & Bob Eifling

This time of year several things are happening with the sheep. They have been brought down from the mountains for the winter, they have been breed and will be having their lambs in the coming months and they are getting their haircut, sheered, leaving them looking like a shaved dog. Before getting their haircut you would notice that they have red and blue marks on their backs. These marks indicate the ewes have been topped (breed) by a ram.

This weekend is the "Foire du Fromage" (Cheese Festival). I'll have a report on that in the coming days.

Au revoir,
-Bob
---