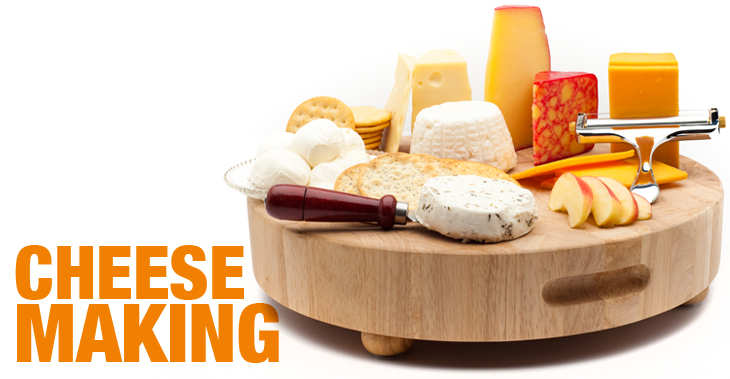 Are you questioning whether to purchase a cheese making press or just make one yourself? Whether you're an experienced cheesemaker or just beginning your cheese making journey, The CheeseMaker is here to help! Regardless if you prefer soft or hard cheeses or if you're on a budget, we have plenty of options to accommodate you and all your cheesemaking discoveries.
If you're browsing through different cheese making presses and moulds, finding the right one for your cheese making needs may be overwhelming. Depending on the type of cheese you want to make, how much you're willing to spend, and how effective each cheese press is, we'll help you make an informed decision. Before you can decide which type of cheese press to purchase, it's important to note what each component is used for and how it works. For example, there are cheese moulds and cheese presses that you can use to make your cheese. A Cheese mould is a round, open-ended container or frame that is used primarily to form curds and give your cheese its definitive form. A cheese press places pressure on unfinished cheese to mold it into a more dry and compact form. The main difference between a cheese press and cheese mold is that a cheese press has a hoop/mould and follower along with a disc or lid that presses down on curds to remove the extra whey and close the knit. There are two main types of cheese presses: dutch cheese presses and spring loaded cheese presses, both of which are easy to use.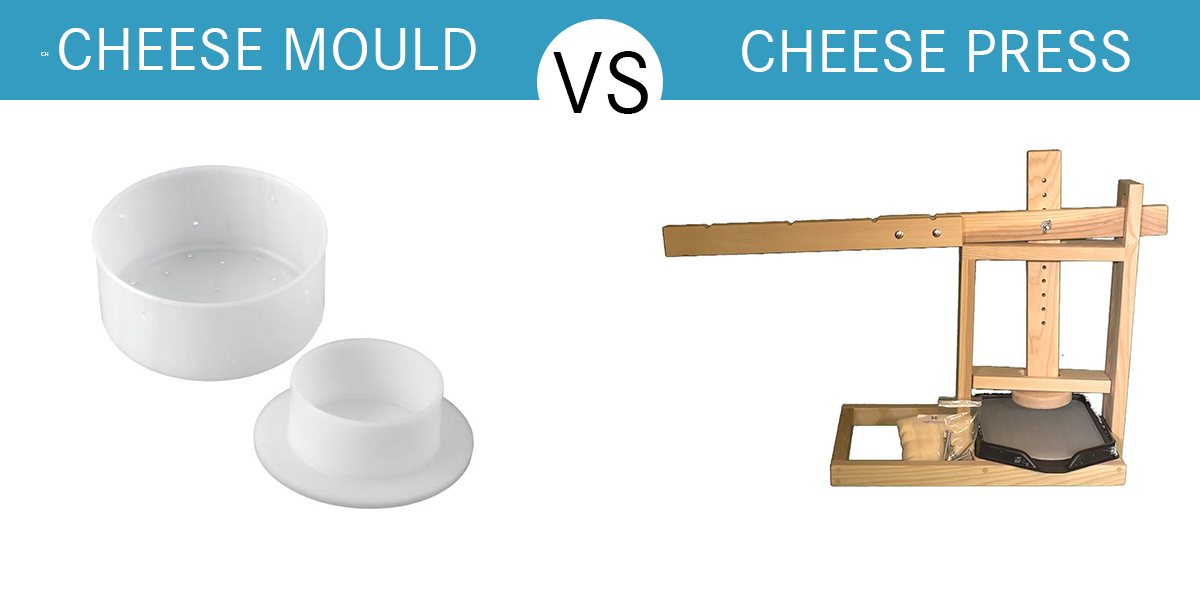 At the CheeseMaker, we offer a variety of different kinds of cheese making presses that all serve a unique purpose and are made with high-quality wood including Wisconsin hardwood Maple or Ash. Unlike other commercial cheese presses, our cheese presses are made with wood from older grown trees that have been damaged and needed to be cut down. The wood from these trees is much more dense and strong than young trees. This kind of wood has tighter grain and more color. Let's compare the different types of cheese presses we offer to help you narrow down your options and find the cheese press that will fit your cheese making needs!
Types of Cheese Presses Made By The CheeseMaker
Image
Cheese Press Type
Price
Use
Dutch Style Cheese Press with Whey Drainage Tray/Insert
$274.97
Hard cheeses
Dual Cheese Dutch Style Press with Two Whey Drainage Trays & Inserts

*optional tow tomme moulds

$324.97
Multiple cheeses at once
Butter Press with Free Culture
$64.97
Butter, butter moulds, and soft cheeses
Walnut or Cherry Maple Butter Press with Free Culture
$68.97
Butter, butter moulds, and soft cheeses
While you can try a DIY cheese press at home, the quality may not be as effective and produce the results you're looking for. Our CheeseMaker's DIY cheese presses differ in the sense that they are made out of high-quality wood that can uphold significant pressure, and are designed to be used for both soft and hard cheeses; whereas, DIY at-home cheese presses may limit the amount of pressure you can apply which in part can affect the consistency and texture of your desired cheese product. Our cheese presses are especially useful in making hard cheeses that require a specific amount of pressure to squeeze out curds for a set amount of time.
Cheese Presses Compared Further
Do you prefer to make hard, savory cheeses like cheddar, gouda, parmigiano reggiano, or swiss cheese? Or the softer and sweet cheeses like feta, brie, ricotta, or cream cheese? The type of cheeses you enjoy to make and eat will determine which type of cheese press you will need. Different cheeses require different weights, and a good press will accommodate by offering weight adjustments so you can alter the sizes and type of mold to achieve your desired cheese look and texture. Hard cheeses also need additional pressing more which requires more pressure.
Dutch cheese press- Uses a lever with weight to apply pressure onto the cheese to 'close the knit'.
Dutch Style Cheese Press- This heavy-duty cheese press is great for making all your favorite hard cheeses with ease by allowing you to exert pounds of pressure!
Dual Cheese Dutch Style Press- Want to press two cheeses at the same time? This is the cheese press you'll need that is made locally with hand-selected Wisconsin wood. It can also apply up to 250 lbs of pressure which makes it a great tool for the artisan or home cheesemaker!
Spring loaded cheese press- A heavy duty spring is used to apply pressure onto the cheese to 'close the knit'. The difference between a spring style cheese press versus a Dutch style is in the method of the force of the press. Both screw and spring presses push down on the cheese, but with a screw press you have to manually push down on a bar in order to secure it. On the other hand, with a spring press all you have to do is turn the knob. Hence, due to the simple construct of the spring press, it makes for a more popular DIY choice. Similarly, wood cheese presses are also a common DIY option due to the simplicity of the design, capacity of pressure they can hold, and the quality of the products it yields.
Stainless Steel vs Wood Cheese Presses: Which Is Better?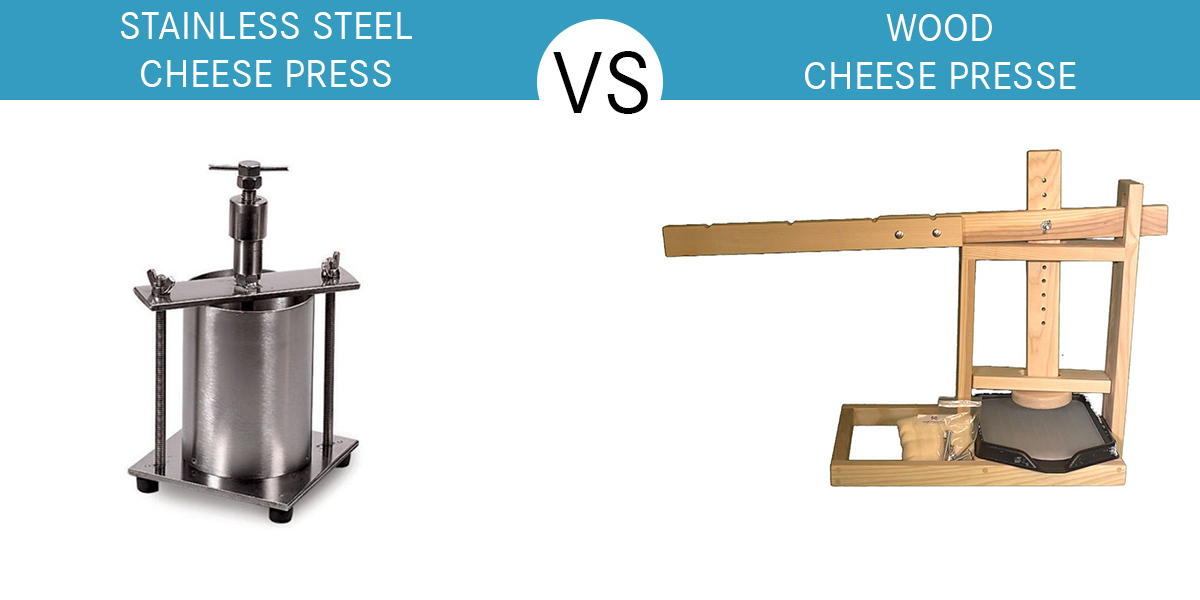 The type of material your cheese press is made out of is a contributing factor to the type of results it will yield. If you're debating between getting a stainless steel vs wooden cheese press, that depends entirely on your personal preference. The main difference between the two is that stainless steel is easy to clean and safe to use but it typically cools down the cheese quicker than other materials, and temperature is a crucial component to cheese making. Often, food-grade plastic is used as a happy medium between steel and wood but it is not as heat conductive as stainless steel. Another factor to consider is if the press has a balanced follower, which is a key element of a cheese press. While using a balanced follower Inspect if the follower remains level, because if not then that will affect the shape of your cheese as well. Followers are round disc-shaped lids that are placed on top of the cheese curd to press them down and form the mold. It's important for the follower to be balanced on all sides because that can affect the structure of your cheese.
How Much Do Cheese Presses Cost?
Cheese making presses vary in pricing starting from $50 and up to $500 depending on the mould size, its capacity, the materials it comes with, it's maximum pressure, and the type of material it's constructed out of: stainless steel, wood, etc. Most retailer cheese presses start from $100 and up if you're looking for a high-quality cheese press that will last. In comparison, the cheese making presses at The CheeseMaker typically come with a more affordable price and countless other perks like free culture, different wood types, whey drainage trays/inserts, and gift boxes. Take a look at our cost per press breakdown in the chart above to find the cheese press that fits your budget!
Cheese Press Efficiency
We offer exclusively wood cheese presses as they are sturdy and made with only the highest quality wood materials. The Dutch style cheese press can uphold 250 lbs of pressure for all your semi-hard and hard cheeses to ensure you're receiving the consistency and texture you desire! Take the load off by allowing our hand-crafted polished presses to make the cheese making process easier for you, so you can spend more time enjoying the cheese you're making.
DIY Home Cheese Press
Another budget-friendly option is to make your own cheese press from home. DIY cheese presses will typically not produce the quality of cheese you desire due to lack of consistency as you can expect from high-quality cheese presses. In addition, the costs, labor, and materials that are associated with creating your own cheese press often outweighs simply just purchasing one instead. If you're interested in how to make your own cheese press, you can also find many tutorial videos or how-to's at your disposal. One of the easiest cheese presses that are more common to make at home is the spring press cheese press.
For our precise cheesemakers, we highly recommend trying out one of our wooden cheese presses for the best quality equipment to start making all your favorite cheeses with ease! See a full wooden cheese press overview here.