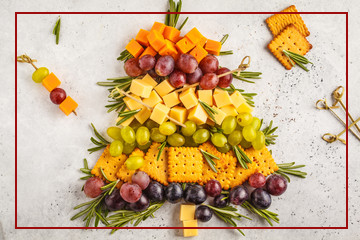 Holidays are right around the corner and if you're looking for the perfect holiday gift for a passionate cheese lover or an avid cheese maker, we've got plenty of items you can add to your list! From all-in-one cheese making gift sets to cheese serving platters, we carry a variety of cheese products to fit exactly what you're looking for.
The best cheese making gift will depend on your fellow cheesemaker's level of expertise, what type of products they prefer, and most importantly, how much you're willing to spend. Whether you're shopping for a friend or family member, we have a cheese making product for everyone! Use our holiday gift shopping guide to help you get started and you'll find the perfect gift for that special someone in no time!
Our Top 5 Favorite Gifts for Cheese Lovers
What better way to serve up a fancy charcuterie board for your dinner guests than on a handmade wooden board? Our cheese serving products make an excellent gift for those who like to get crafty with serving their dishes in aesthetically pleasing ways. We carry a variety of cheese serving products that are locally made such as vibrant ceramic plates and trays, cheese serving boards of different sizes with or without a wine glass holder, grater plates, planers, peelers, and brushes. Our ceramic trays even come in all sorts of fun shapes, bright colors, and sizes. For example, we carry a pear-shaped ceramic plate, ceramic olive trays, and even a large serving platter with multiple plates-- all of which are on clearance! Shopping on a budget? Be sure to check out our sale items! If you need another reason to be convinced of why our cheese serving platters are a great place to start your holiday shopping, it's because all of our serving platters come with an affordable sticker price and are high in quality making them a practical option as well.
This special cheese knife is our personal favorite as it is best for cutting soft and semi-soft cheeses as well as other food items with no sticky messes left on the knife! It's also made with a revolutionary new material and design that keeps the cheese on the plate, not on the knife. Originally designed as a soft-cheese knife, the technology also works with butter, boiled eggs, cake, or any other substance that typically sticks or leaves a residue on ordinary blades. It's heat resistant to 430° F, dishwasher safe, stain-resistant, and FDA approved. You can also choose from two convenient sizes and three colors:
Small blade- length 3.75 in.(9.25 cm) - available in orange, black, red
Large blade- length 7.25 in.(18.4 cm) - available in orange, black, red
Upon purchasing this product, our only disclosure is please do not try to cut hard, dry cheeses with it--use it only on soft cheeses. Say farewell to cheese residue sticking on your knife when you choose this product for your favorite cheese connoisseur!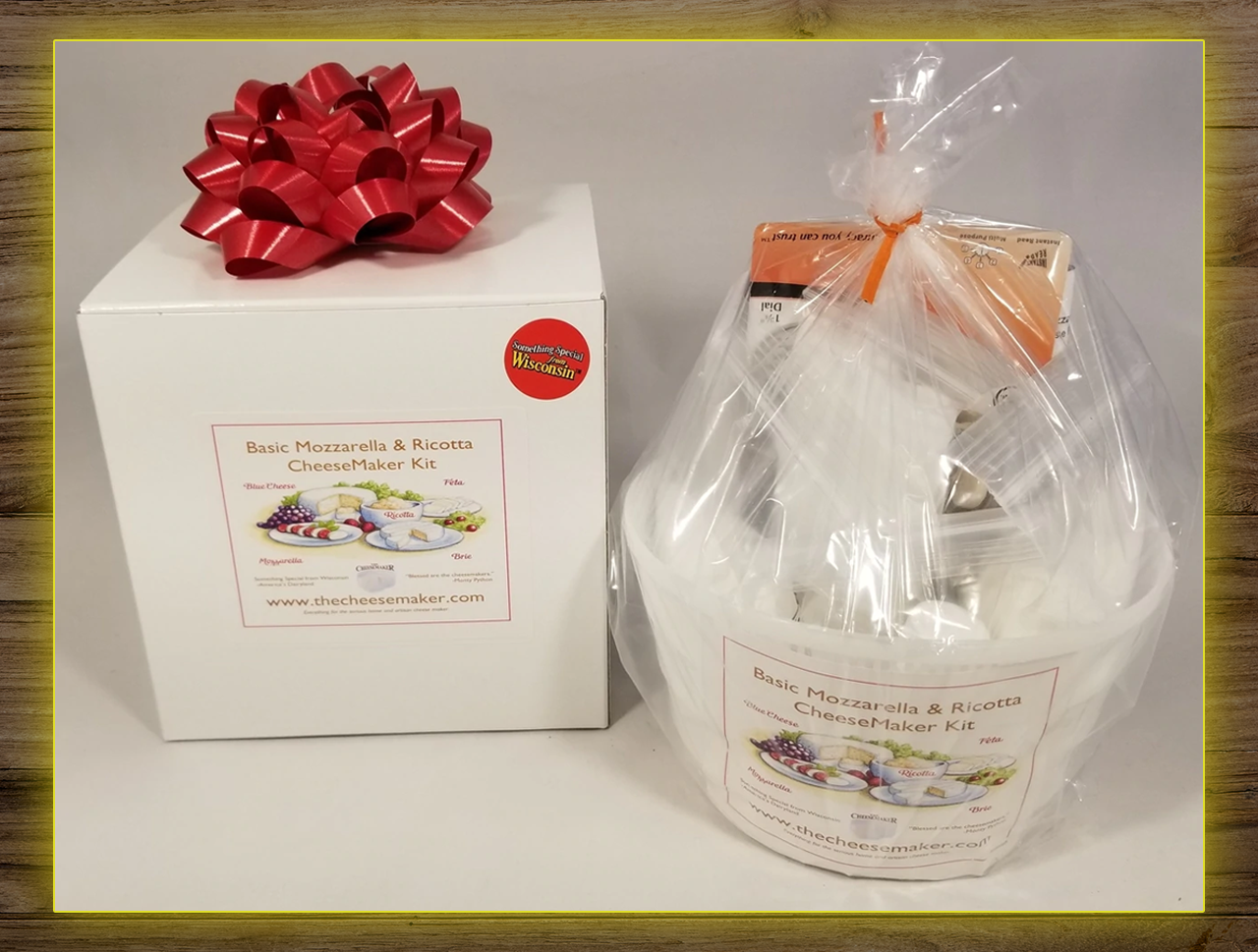 3. Deluxe Mozzarella & Ricotta Kit-Gift Boxed
Share the gift of homemade mozzarella with a basic mozzarella & ricotta kit that's priced mid-range. If you have friends and family who love cheese or who are interested in how to make their own, then this is the perfect gift for them! When you first start out, you do not want a complicated kit. You want something that is easy to follow and this gift box comes with detailed instructions. If a cheese is too complex, beginners may be discouraged from learning further because it seems too difficult. This homemade ricotta cheese kit makes it so easy that even your kids can get in on the fun. It has everything to show your family how to make cheese on their own. Our kit is superior as it includes an easy to read large dial thermometer, French made draining basket mould, straining bag, aside from plenty of citric acid, cheese salt, and lots of rennet tablets to make many batches! All you have to supply is the milk and a warming kettle. Milk should be raw, non-homogenized whole milk or whole milk with 1/20 part heavy cream.
Kit includes:
8 oz. Kosher cheese salt
8 oz. Kosher citric acid
1 oz. calcium chloride
10 microbial rennet tables
Small Straining Bag
1 reusable cheese cloth
1 calibrated thermometer
1 ricotta mold
mozzarella & ricotta recipe
The kit also comes in a charming ricotta basket with plastic wrap to hold all of the pieces inside, then tied off at the top with a ribbon. For the new cheesemaker, we offer a variety of cheese making kits, including mozzarella kits, blue cheese kits, cheddar kits, chevre kits, and more!
4. Walnut or Cherry Maple Butter Press with FREE Culture and Gift Box
Does your special someone like to press their own homemade butter? Then this is the gift you'll want! With our maple and walnut butter press, you can press your own homemade butter. This press comes in two wood styles: Walnut & Maple or Cherry & Maple. It's made from Wisconsin maple (hardwood) and walnut, this butter mould will easily form your one pound of homemade butter into a perfect block. It's also made with the highest quality products using joint-work, instead of hardware and priced affordably. Our Steve Kunda Woodworks Studio makes these presses exclusively for our customers-- which makes them guaranteed to last a lifetime! It also includes complete instructions and a small bottle of the finest food grade mineral oil.
Gift includes:
FREE Mesophile Aroma Type B included
Use Mesophile Aroma Type B culture to make cultured butter and many other delicious items
*Maple and Walnut are woods are safe to use with foods.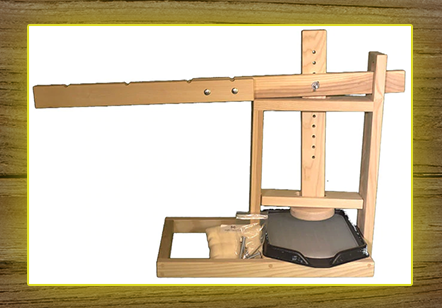 Bring the art of cheese making into your home with this beautifully crafted Dutch style cheese press! If you're shopping for an advanced or expert-level cheesemaker and wiling to spend the extra money, they're going to love this heavy-duty Dutch style cheese press! It allows you to exert hundreds of pounds of pressure with ease! Dutch style cheese presses work great when making hard cheese at home. Our Dutch cheese press has a lever arm capable of holding five gallons of water; this is up to 250 pounds of force! Our presses are made in Wisconsin with hand-selected hardwood maple or ash that are designed and built by a local expert wood craftsperson. We choose damaged old growth trees for sustainability. This results in cheese presses with more character, a variety of wood color, and a tighter grain. Our Dutch presses are built to be the best in the market and they offer more leverage. Marked notches on the lever arm offer 3,4,5 and 6 times weight. That means just one plastic jug of water weighing 8.35 lbs. can exert nearly 50 lbs. pounds of weight on your cheese! Add another jug or any other weights to exert even more weight.
Other features include:
Made with maple or ash, hand-selected hardwood
Lever arm offers between three and six times weight
Exert hundreds of pounds of pressure
Custom whey drainage tray included
Dimensions: 20 x 12 x 21 inches
Usable base area: width 10 in. length 11 3/4 in.
Lever arm length: 34 inches
Two models available (Dual Dutch Cheese Press)
Creates perfectly rounded cheeses
No tools needed for assembly, Phillips screwdriver included
This is a great value for any home and small artisan cheesemaker. You won't find a better made or more carefully designed Dutch style cheese press. There is no easier way to press cheese than with this product. We design our models specifically for your convenience and pleasure. We build our DIY cheese press with durable hardwood, that not only allows you to experience quality, but also experience a cheese press that is going to last!
More Cheese Making Gift Ideas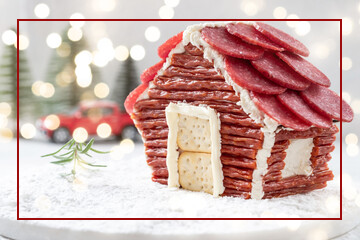 Whether you're shopping for a female or male, an amateur cheesemaker or expert cheesemaker, someone of any age group, or have a set budget, with our large selection of cheese making gifts--you'll find something for everyone! If you had something else in mind, browse through our other top picks to help you cross off any last-minute items on your list.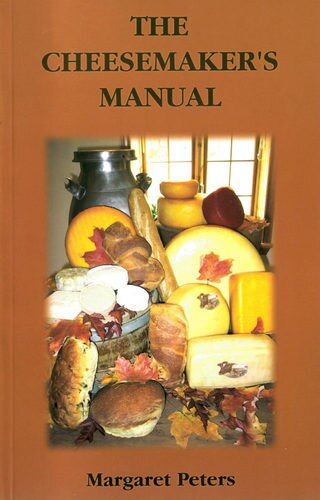 If your cheese enthusiast enjoys experimenting with different cheeses or doesn't know where to start, our cheese making recipe booklets are a great place to kick them off! They're affordable and will make anyone's first cheese making experience more enjoyable.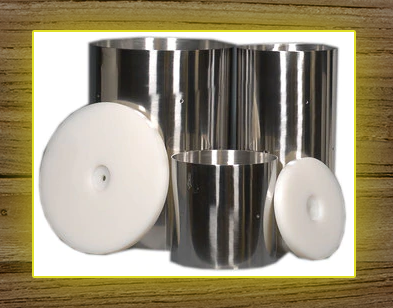 If a dutch style cheese press is not exactly what you're looking for, we carry many other cheese press supplies for different types of cheesemaking. Whether the person you're shopping for makes soft or hard cheese, we've got the right supplies to help them make it. Choose from cheese presses, steel hoops, six-gallon PVC hoops, and more!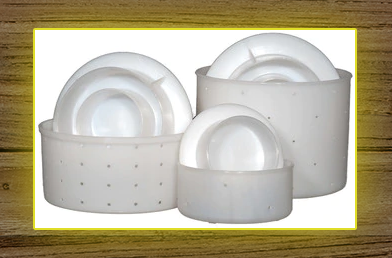 Our cheese making supplies are of a high quality so you can make delicious artisan cheese at home. If your special someone already has other cheese making supplies, you may be interested in our different cheese moulds. Whether your cheese lover enjoys making brie, ricotta, or a hard cheese, we have the cheese mould they would need to create their very own cheese at home. Our cheese moulds come in two different materials: stainless steel and polypropylene, each of which have their own purpose.
Stainless Steel - Custom designed to makeCamembert and other cheeses. Reinforced rim prevents deformation of mould during use.
Polypropylene - Our food-grade polypropylene cheese moulds are imported from France and Italy. These plastic cheese moulds have been selected for their practical utility and popularity. Made in either France, Italy or Holland.
Whatever cheese you choose to make at home, choose a cheese mould that meets your needs from our wide selection at The CheeseMaker!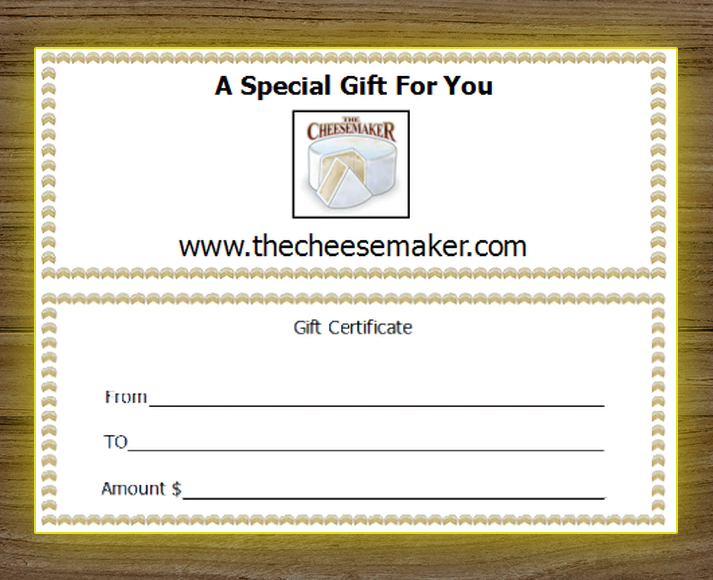 Cheese Maker Gift Certificate-Any Amount You'd Like
If you still can't decide on the right gift for your cheesemaker, you can never go wrong with a gift certificate to let them choose what they want! Send your special someone the gift of cheese making. We'll include a card with your greeting, just write it at checkout.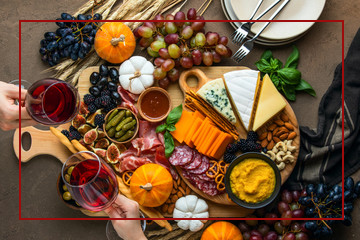 Cheesemaking gifts are always welcome for those who enjoy cheese. It allows your friends and family to explore a new hobby and develop a new skill together. While there are some cheeses that form better in the hands of experts, with the right ingredients, tools, and directions, the possibilities in the kitchen will be limitless! Tis' the cheeson!