Everything for the serious home &
artisan cheesemaker.
From Wisconsin - America's Dairyland
"Blessed are the cheesemakers" ~ Monty Python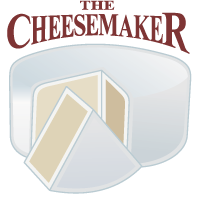 414-745-5483
10am - 6pm CST Mon-Fri
All orders shipped same day.


Shipping Included Within The Continental United States.
Rennet
Important Note: Rennets vary in their strength (ability to coagulate milk). Their ability to coagulate milk varies with the type of milk being used. To insure your milk coagulates property and in a timely manner, I suggest using calcium chloride, especially if you are using homogenized milk. Calcium Chloride will also insure you attain a clean break, proper coagulation and more yield. Mix the correct amount of rennet in a small amount of clean water before adding to the milk. Tablet and powder rennet can be mixed with a little clean water before adding to the milk. Store liquid rennet in refrigerator. Store powder and tablet rennet in the freezer.
Kosher Certifications: Click on each rennet to see Kosher certifications for ChyMax Extra rennet, Chymax M rennet, Organic Vegetarian(Marzyme), Vegetarian(Marzyme).
Repackaged Kosher Certification: Our repackaged products are certified Kosher by Kosher Supervisors of Wisconsin, LLC. Questions about our products, Kosher certs and/or repackaging Kosher certs can be addressed by contacting us.
Click here to see our Kosher Certification for repackaging. Every Kosher certified product we sell will display the Kosher certified symbol. Products that are repackaged will display the Kosher certified logo from Kosher Supervisors of Wisconsin, LLC.
Photo here shows both Dairy and Parve labels used to seal bottles of rennet after repackaging.
Shipping included within the continental USA.
Shipped same day as ordered, Mon-Sat.
Current Top Sellers
Popular Products